Rob Brydon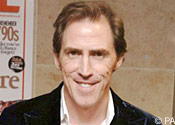 Biography
Former BBC Wales announcer turned comedian who after grafting away for some years in small roles in local radio, television and films, created and starred in some of the stand-out hit comedies of the early 21st Century including Human Remains, Marion and Geoff, and The Keith Barret Show.
In Annually Retentive he created a comedy show spoof in the form of a panel game and its behind-the-scenes machinations. He's also a semi-regular guest on QI, Just a Minute and I'm Sorry I Haven't a Clue.
Trivia
Comedian David Walliams was an usher at his 2006 wedding.
One of Rob's announcing roles at BBC Wales was to read the news headlines at closedown - albeit as a voiceover.
Rob Brydon (well, Robert Brydon) are in fact his first two names, Jones being his real surname. Brydon is his mother's maiden name.
He lists his recreations in Who's Who as "playing the guitar badly, Apple gadgets, country walks, drinking milk and eating biscuits, thinking about Sydney".
He stood in for Humphrey Lyttelton on the final night of I'm Sorry I Haven't a Clue's 2008 stage tour in Bournemouth. He was signed up a year later to become one of three guest hosts for ISIHAC's first series after Lyttelton's death.
People are often surprised to learn that although he's occasionally learned a phrase or two for the sake of a gag, he does not actually speak Welsh.
Contact
United Agents, 12–26 Lexington Street, W1F 0LE
Web links
Feedback