Popmaster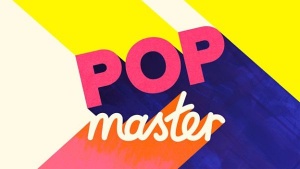 Host
(and various stand-ins including Mark Goodier, Richard Allinson, Stuart Maconie, Alex Lester, Gary Davies, Dermot O'Leary, Charles Nove, Aled Jones, Simon Mayo, Rob Brydon, Zoe Ball, Claudia Winkleman, Trevor Nelson, Scott Mills, etc.)
Broadcast
BBC Radio 2, 16 February 1998 to 3 March 2023 (as part of The Ken Bruce Show; approx. 6350 episodes)
Greatest Hits Radio, from 3 April 2023 (as part of The Ken Bruce Show)
as Popmaster TV: 12 Yard for More4, 26 June 2023 to present
Synopsis
Long-running Ken Bruce pop music quiz on Radio 2, and easily the best thing on in daytime on that station.
Two contestants face ten questions each, highest score on the day wins. The scoring was originally 3 points for a correct answer and 1 for a partially-correct answer, with a "bonus" question whereby the contestant chose a number from 1 to 10 and when that question came up it was worth double points.
Relaunched as "New Popmaster" in 2002(?) with a new "specialist subjects" twist whereby three of the questions are on a subject selected from a choice of two (originally three) and worth double points. In the early days there were often quite specific subjects (on a particular artist or genre) in the selection; nowadays these are rarer and the subjects tend to be pretty wide-ranging, like songs with colours in the title, "female singers" (so that'll be about half of all solo artists ever, then) and the much-hated "Name the Year".
The quiz was run in two parts (at 10.25 and 11.15) for a few years around the millennium before reverting to its original all-in-one form (indeed, practically a show within a show) at around 10.30. The last major tweak (in January 2005) was to have the two contestants on air simultaneously, answering alternate questions, with unanswered questions passed over to the other contestant for a bonus, which only lasted a week or two before being given up as A Really Bad Idea. (This format was briefly revived for the Children In Need Celebrity Popmaster week in November 2006.)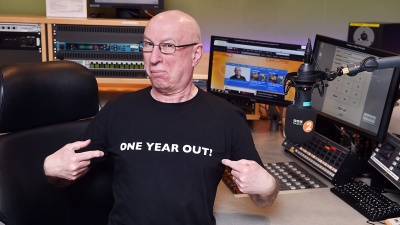 Ken Bruce... always slightly out of time
Winners go through to endgame Three In Ten, naming three hits by a given group or artist in ten seconds. This is very much pot luck - sometimes it'll be someone like the Rolling Stones or Status Quo, but sometimes it's a real stinker like Shalamar or Go West, where you think "have they even had three hits?". There was some weirdness in the early contests - "Three in Ten" was originally to name three songs on a theme - songs with "Monday" in the title, for instance. The familiar finale - three songs by one performer - came some months later.
Since May 2022 the top prize is a "smart speaker" of unspecified manufacture; prior to that it was a DAB radio worth about £100, which in turn replaced a clockwork wind-up radio sometime in the late 2000s. Winners who don't name three in ten get Bluetooth headphones (previously a Bluetooth speaker). Previous consolation prizes included an MP4 player in the early 2010s, the "flipper radio" between May 2007 and October 2009, and before that the mysterious "space radio". Occasionally someone still asks for an inflatable chair, even though that particular consolation prize hasn't been given away in years and years.
The year's top scorers (which for a while was restricted to maximum scorers only, even if that was as few as five players as it was in 2010, though 2012 saw so few maxima that the rule had to be abandoned to have any sort of contest at all) come back in December for Champions League Popmaster, with some posh hi-fi equipment (changed to an electronic tablet in 2014, and later an actual trophy) for the overall champ. Just four players took part in Champions League in 2022, which suggests they could do with loosening the selection criteria a little.
Ken announced on 17 January 2023 that he was leaving BBC Radio 2 at the end of March. His new show on Greatest Hits Radio began at the start of April, and Popmaster went with him. The same week that the quiz made its GHR debut, 12Yard announced it was making a television version for More4, which duly appeared for what might be characterised as a pilot series less than thee months later.
Popmaster TV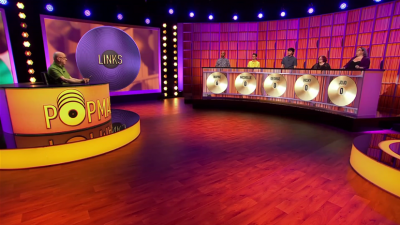 The show's visuals feature a "gold discs" motif
The TV show fills a one-hour slot, which even taking the ads into account requires a fair bit of padding out. Consequently the first six rounds are... well, they're not really Popmaster as we know it, they're basically a civilian Pop Quiz-type affair to decide who actually plays "Original Popmaster" at the end. Five players start and the rounds (always in this order) are:
Links. Four questions to each player, and the questions are linked in some way. If you're lucky, they may just be linked one to the next, like the classic The Krypton Factor general knowledge round. If you're unlucky, they may all have quite a specific link - quite possibly one you know nothing about. Three points per correct answer.
Intros, Middles and Ends: an intro, middle or end of a song is played, buzz in to identify the artist and title. Available points start at 5 and quickly drain away to zero on each question. After this, the lowest-scoring player drops out.
Video Gaga: An individual round. Up to five stills from a pop video are shown, each accompanied by a clue to the song or artist. Identify both for between one and five points.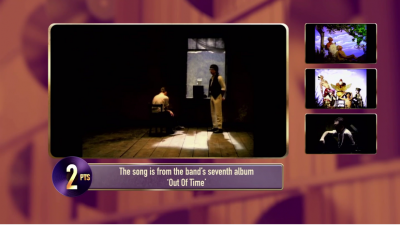 A graphic from the "Video Gaga" round. The answer is "Losing My Religion" by R.E.M.
Top Ten: The top ten singles from a given date in history are shown, each hit has a question attached, three points for being the first to buzz in and answer. Another player drops out at the end of this one.
Pop Years: An individual round. Identify the year from up to three hit songs. Five, four or three points for a correct answer. Mostly an excuse to make far too big a deal of the "One Year Out!" catchphrase. Seriously: knock it off, guys.
It's Only Words: Identify a hit from a lyric. First to buzz in correctly gets three points and is given three further hit song titles that share a word with the first one. Identify the acts for three bonus points each.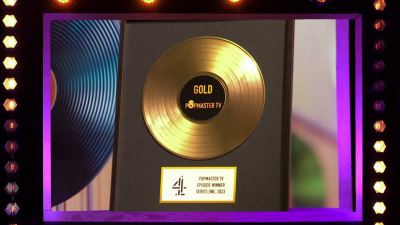 You'd think the prizes might be better on TV. You would be wrong.
The two highest-scoring players go on to play "Original Popmaster" which is just like on the radio. The winner gets a silver disc, "upgraded" to gold if they get three in ten, which they always do. All winners go through to the series final. Broadly speaking, the TV show is better written than the radio version: the odd error still slips through, but we're largely spared the worst of Phil Swern's bad habits (such as guessing what a song is about from its title, and frequently getting it wrong; asking things about US-only hits that it's simply unreasonable to expect a UK audience to know; and specifying that a hit is by a "chart act" as if that narrows it down by even the tiniest amount). It's also rather more wide-ranging, at least datewise: the "It's Only Words" bonuses sometimes include pre-rock'n'roll hits and there's a lot more 21st-century questions than you get on radio. Since the contestant selection is pretty much the same as on radio, this can at times make it feel rather more difficult than it needs to be, often resulting in a lot of blank faces... and the one or two serious quizzers in the line-up absolutely running away with it.
Key moments
We're sure people have scored zero in the past, but nowadays Ken will always give enough clues to the last question to ensure that they will get three points. This can often get so hilariously long-winded that it would probably have been kinder to just let them score zero. For the first time in living memory, an official zero score was heard on 23 June 2021 after the first contestant had scored only three points (unassisted), and in the circumstances it wasn't really on for Ken to offer help to the second. Another zero score was achieved on 31 December 2021, when Scott Mills was standing in as host.
The infamous April Fool's Day edition, when fellow R2 jocks Richard Allinson and Lynn Parsons tricked Ken by posing as genuine contestants, made ridiculous "guesses" and ended up locked in a never-ending tie-break.
The incredibly cheesy jingle that for a while was played when players successfully completed Three In Ten. We miss that.
Rob Brydon's one-off appearance as stand-in host for the August Bank Holiday in 2008 was notable for Brydon conducting the quiz in an uncanny and hilarious impersonation of Ken Bruce. Bruce had to put up with jokes about this for months afterwards, and even other stand-ins would get jokey emails from listeners suggesting that they (the stand-ins) were really just Brydon in disguise! Brydon appeared "as" Bruce again for April Fools Day 2011.
On 29 January 2021, winning contestant Shar Doherty used her "shout outs" to propose to her boyfriend. She later said that she'd been inspired to do it after hearing the "interval" song in Popmaster that day: as part of a musicals theme day, Ken had played Stanley Holloway singing "Get Me to the Church on Time" from My Fair Lady.
Inventor
Ken Bruce, Colin Martin and Phil Swern
Catchphrases
"One year out!" A good example of a catchphrase that emerged naturally rather than being deliberately written as a catchphrase. It now appears on the T-shirts they give out as consolation prizes.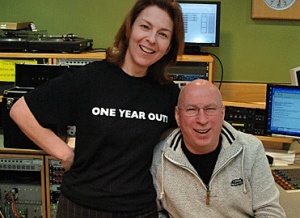 Former Celebrity Popmaster champion Lynn Bowles models the "One Year Out!" T-shirt
Trivia
During a period from July 2007 to January 2008 when all BBC phone-in quizzes were suspended due to mismanagement and defrauding the public, Popmaster was played using celebrity contestants. The first (and indeed, only) celeb to score maximum points was Richard Drummie from the aforementioned Go West - and what made this particularly impressive is that he did it without the outrageous giveaway clues Ken usually dished out to the celebrity players. For some obscure reason, people on the BBC staff were not allowed to appear but those who worked for the corporation as freelancers could - so Charles Nove was roped in as a contestant, but fellow R2 newsreader Fran Godfrey was barred.
The music bed for the quiz lasts seven minutes and twenty-eight seconds. Or at least, the 2002-8 version did. They introduced a new music bed and jingles in January 2008 to coincide with the return of the regular non-celeb version. The music was changed again (the new version is fully orchestrated, no less!) as part of a general refresh of Radio 2's jingle package on 16 July 2012.
We dimly recall that a team version was tried out at least once, back in the 1990s.
The opportunity to win an inflatable chair has long since passed, but you may have more luck in requesting a foot pump. They'd already sent out several hundred chairs before discovering an enormous box of the pumps to go with them, stashed away in a store cupboard and forgotten about.
The quiz became something of a flagship feature for Radio 2. In 2019, the We Stop for Popmaster Tour took the show on the road for a week (even though Popmaster itself was conducted with phone-in contestants as usual) and Spring Bank Holiday 2020 saw an "All Day Popmaster" competition with members of the public playing against DJs - surprisingly, from both BBC and independent radio. There was another All Day event (with members of the public versus TV quizmasters and chasers) on Spring Bank Holiday 2021, along with a documentary marking (er) 23-and-a-bit years of the quiz. In addition, the previous Friday saw a rematch for the first ever contestants. In 2022 the all-day event became "Platinum Popmaster" to mark the Queen's jubilee, with the celebrity contestants being platinum-selling pop stars. Bruce has also done the quiz as a non-broadcast live event for Children in Need.
A ten-question selection from Popmaster has featured on Radio Times' puzzle page for some years (alongside tie-ins to Eggheads, Pointless and Only Connect). They do not run this as a "find the mistake" competition, which is very disappointing as spotting Phil Swern's errors happens to be something we're rather good at (there's plenty to find!). Where's our T-shirt?
The pilot TV series aired 8pm Monday to Friday with the final the following Monday, which had the effect of sidestepping any potential clash with The Hit List on Saturday, and reruns of Pop Quiz on BBC Four on Sunday. Though if that was the reason, they needn't have worried - firstly because it turned out that The Hit List aired much earlier in the evening that week, and BBC Four didn't put Pop Quiz on at all, and secondly because Popmaster proved an even bigger hit than anyone expected, easily beating More4's slot average every night across the week.
See also
Weaver's Week appreciation (2019), profile of Ken Bruce, and Popmaster TV (both 2023).
Web links
Feedback