Zoe Ball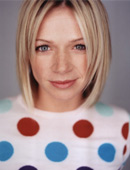 Biography
Daughter of the legendary Johnny Ball, Zoe worked behind the scenes for Granada and BSkyB before getting her big presenting break on The Big Breakfast. She went on to present the BBC Saturday morning show Live & Kicking and become the first woman to present the Radio 1 weekday breakfast show. In 2018, she took over from Chris Evans as the host of the Radio 2 breakfast show.
In 1999, she married DJ and dance music producer Norman Cook and had two children together. They announced their separation in 2016.
Trivia
Ball hosted the Channel 4 show "100 Greatest TV Moments From Hell", which was - you've guessed it - a celebration (or otherwise) of the most excruciating, controversial, or simply irritating, occurrences (and shows too, for that matter) in television history, as voted for by the viewers.
Web links
Feedback