Weaver's Week 2015-09-27
Last week | Weaver's Week Index | Next week
This week, we look at the best new darts quiz since Treble Top.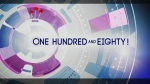 ITV Studios for The Satellite Channel, from 15 September
According to the numbers, this should be thirty times better than 6 Degrees of Separation. But with no degrees. Certainly the show has no degrees, and while it's not thirty times better, it is much better.
One way in which it's better is the host. Davina McCall leads the programme, her seventeenth hosting job in about as many years. She's not asked to extend herself: explain a complex set of rules in simple chunks, empathise with the contestants, and gee up the crowd. Experience has shown that Davina is excellent at all these tasks, and she is as reliable as ever.
Freddie Flintoff is her nominal co-host, though for most of the show he's stuck away in the KYTV commentary shed at the back of the studio. Between him and the stage is a crowd of about 200 people. Many of them have come in fancy dress, for reasons that are never quite explained. They're loud, good-natured, and enthusiastic about having a good time.
Two darts players walk out into the arena, always with the maximum of fuss, always through a portal at the back of the room. Now, our knowledge of darts isn't great, it's limited to the world championships each January and a couple of tournaments on ITV4. As a result, we don't recognise such rising hopefuls as James Wade and Michael van Gerwen.
We do recognise their quality in the very first challenge. In turn, they're to hit as many doubles as they can in number order. 90 seconds to complete the challenge, and there's £1000 in the jackpot for each one they hit. Pairs of players might hit double 1, then double 2, and all the way up to double 16, so there's a possible £16,000 to be won.
Only after this introduction do the quizzers enter. They've had the chance to make short films about their life, and they've made sure that the short films are pieces of art to remember. We found the films a little over-produced, but we want less faffing about and more game. The players are not just quizzers, they're also decent darts players, as we'll find out later in the show.
After all the introductions, we take the first round. The Race is 45 seconds of buzzer questions for the quizzers. One light is lit for each correct answer. One light? The lights are on a dartboard, and 20 of them zig-zag up the board. After the civilians have done their bit, their professional colleagues have 45 seconds each at the oche. Whichever team can complete the board faster, or get higher up the board, will win the round.
This round breaks one of the regular rules of darts: players throw as many darts as they can, and they don't run to the board after they've thrown three darts. The board ends up with twenty or thirty shards of metal sticking out, like a robot hedgehog crawling up the wall.
"Don't go darting off," says Davina into the break. Slightly rubbish catchphrase, she knows it's slightly rubbish, and gets it out. Afterwards, a standard professional leg. 501-up, finish on a double. There are spot prizes to be won – £500 for the civilian if the dartist hits a 180, and a bonus £1000 for a nine-dart leg (which is likely to contain at least one 180).
Round three is "The Zone". There's a dartboard, covered with four triangular zones. They're worth 30, 50, 80, and 100 points; as the value increases, the size shrinks. Davina asks a question on the buzzers, a right answer lights the big 30 point zone and the team has a chance to throw, or take a further question. "Question or throw", the approximation to a catchphrase. A right answer lights the next zone up, a wrong answer passes control to the opposition.
Eventually, the team in control will choose to throw. The team captain (the one who made the film earlier) throws three darts, hoping to hit the zone and bank the points. First team to reduce their score from 180 to nothing (or less) wins the round.
This round is a perfect example of Davina's ability. On paper, it's confusing and complex and we're not sure we understand it ourselves. On screen, Davina makes it look so very easy. The viewer need never be confused. The viewer hardly needs think.
Then comes another ad break, and another pro leg. Then it's round five, Stop the Clock. Team A is to answer five questions. Team B's amateur thrower has that length of time to go round the board and hit some circular targets. There are twelve targets to hit, each a bit larger than the outer bull. Start at the top, go clockwise around, better performance wins.
We find this segment to be the weakest in the show, it relies as much on the opposition getting things wrong as your own team hitting its marks. Then there's another pro leg, and a final ad break.
The night's winner is decided in a doubles leg, the "Doubles Decider". Again, it's 501-up, except each round won is worth 10 points off the score here. Win by 4-2, and you're in a 461-to-481-up contest. Professionals and amateurs alternate, and the first team to reach zero (on a double) wins the show. The loser keeps any money their professionals donated in the earlier pro legs.
There's one very large problem here: the last 50 minutes has been almost useless to help find the winner. At best, a team can take a one-dart head start in the leg. Spot cash prizes help to maintain interest, and the games are challenging on their own, but we don't find the reward is worth the effort.
Winners in this doubles leg go through to "The Final Throw". Here, the cash jackpot is split into various fractions. 1/40th, 1/20th, 1/10th. Then 3/20ths, 1/5th, 3/10ths. And it finishes with 2/5ths, one-half, and the full amount. Nine segments, nine areas to hit to win prizes, and two minutes to win them.
The professional throws first, aiming at small targets in the treble ring. Once the pro has finished, or the amateur stops them, the amateur throws at larger targets in the doubles ring. Only the targets that both players hit can be won. The players are only allowed three darts, and must retrieve their arrows after throwing them.
We're assured a prize at the end, well into the thousands. And we're assured of a tense finish: can the player land their darts in the small final areas? Will the amateur stop the professional?
The traditional point of reference for darts game shows is Bullseye. This show is not Bullseye; far from it. It's a realistic darts-and-quiz blend, the sort of format they could replicate in pubs up and down the land. There is no prize board with fondue sets and a canteen of cutlery, just cold hard cash. And there's no gamble: what a player wins at any time is theirs to keep.
As we said at the start, One Hundred and Eighty is not thirty times better than 6 Degrees of Separation. It's better than we dared hope it could be. Another hit from ITV in their anniversary week.
This Week and Next
Good news for all Taskmaster fans. Dave will make two more series of their hit series.
An abrupt end to Tuesday night's not-live edition of Big Brother's Bit on the Side. A shouting match between Farrah Abraham (recently eliminated from the show) and Aisleyne Horgan-Wallace (professional ex-Big Brother lab rat) turned into a throwing match. First some drinks were hurled across the studio, followed swiftly by the glasses that used to contain them. Chairs followed in their wake, and the fun only ended when someone threw a security guard across the room.
Not that viewers saw any of this, the not-live show cut to a still of this series's eye motif, and an apology from Rylan Clark that "we've lost the panel." Has he tried looking down the back of the sofa? Ah, worried he might find Helen Wood lurking to ruin yet another series. She didn't manage it, the series finished on Thursday. They may have crowned a winner, quite frankly we're beyond caring.
Quiz update
Home and away on University Challenge with St Catharine's College Cambridge (Tom Watson, Ellie Chan, Calum Bungey, Alex Cranston) against Southampton (Will Cable, Sarah Stock, Tricia Goggin, Roland Sadler). Paxman is an alumnus of St Catharine's, and we're pleased that he declared his allegiance.
He may not have been so pleased with the first four starter questions: three penalties for missignals, and two beat both teams. Southampton pulled away with their knowledge of Horrible Histories books, which makes us hope that Paxman's eventual replacement is Rattus Rattus. He's far more attractive and well-spoken.
St Catharine's took the lead before the music round, and were never again headed, winning by 165-135. It puts Southampton in repèchage contention, at least for the next week.
Only Connect looked done and dusted after the Sequences round; the Headliners led the Bookworms by 13-6. The Bookworms had sounded the FIVE POINT KLAXON with a run on David Beckham's club career, only to be unseated by the fact he didn't go on loan from Paris St Germain.
The OC is a game of two halves, and the Bookworms wobbled at the wall; they couldn't unscramble a set of diacritics (and made the fatal mistake of leaving it till later) and didn't recognise "beyond the ____" phrases. Headliners were a little unfortunate not to have "country dancing" accepted for "square dancing" (our Texas correspondent tells us there's a difference).
A year ago, everyone was talking about "Issues around Scottish independence". This week, Headliners took four points from missing vowels, and that set them up to level the scores, and eventually win by 23-21.
Trivium staged a come-from-behind win on Hive Minds, 33-31 the final score. Up against the Lutrophiles, they fell a little adrift in the first round, and the otter fans extended their lead in the second phase. Clever tactics helped – pick the opposition's strong suit, not your own. The gap closed from six points to two in the Superhive – the Lutrophiles had trees, and got stuck with the redwood, while Trivium spent forever sorting KESLNOT into the right answer. As seems to be their way, Trivium were better in the final buzzer round. We meet them again in the final.
A third of the way through Mastermind heats, and Tom Mead booked his place in the second phase with a score of 25 points. In a low-scoring week, all the contenders scored between 9 and 12 on their specialist subject. Andrew Brophy had that lowest score, and Rachel Fullard collected general knowledge passes like they were going out of fashion. Ed Kent looked strong, and finished one point behind, but was just about beaten by the better player.
BARB ratings in the week to 13 September.
The Great British Bake Off remains the most popular show in the country, but it's slipping a little – 12 million is down from last week.
The X Factor holds steady on ITV, with 7.2 million viewers. Pointless Celebrities has 4.1m, and Through the Keyhole climbs slightly to 3.1m.
University Challenge (2.6m) continues to slip past Bake Off An Extra Slice (2.55m), but it's close. Channel 5's Celebrity Big Brother got 1.9m, and a repeated Fifteen to One the Celebrity Edition had 1.05m on Channel 4.
Celebrity Juice came back to ITV2, 1.35m saw it. Xtra Factor had a series-best 720,000, and Hell's Kitchen was seen by 450,000. We don't have figures for The Satellite Channel.
Ultimate Brain brought 215,000 to CBBC on Saturday morning. A new peak for Rupaul's Drag Race on Tru TV (64,000). And repeats of Celebrity Big Brother on MTV+1? Seen by 4000 people; it would be cheaper to send them DVDs through the post.
The annual outing of BBC One Man and His Dog (in Countryfile, BBC1 Sun), the return of All-Star Mr and Mrs (ITV, Wed), The Almost Impossible Game Show (ITV2, Thu) and Channel 4's music department invites us to Blink (Thu). People from Radio 1 are on Pointless Celebrities (BBC1, Sat), including Clara Amfo, Greg James, Scott Mills, and Sarah-Jane Crawford.
Photo credits: ITV Studios, Tiger Aspect.
To have Weaver's Week emailed to you on publication day, receive our exclusive TV roundup of the game shows in the week ahead, and chat to other ukgameshows.com readers, sign up to our Yahoo! Group.