Whose House?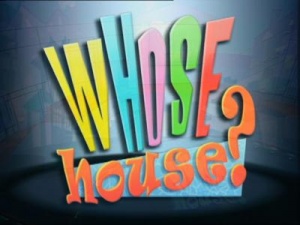 Host
Co-hosts
Broadcast
Mentorn Barraclough Carey Midlands for BBC Two, 15 March to 17 December 1999 (74 episodes in 2 series)
Synopsis
Ross Kelly hosted this series in which a celebrity panel are challenged by three families to discover which are real owners of a house. Changing Rooms diva Anna Ryder-Richardson gave vital clues via a satellite link-up.
Six people come into the studio - a couple who live in today's house plus four of their friends and/or family who don't.
The celebrity panel were first shown a short video of the house by roving reporter Anna Ryder Richardson. The first of the ladies then came on and stood in front of the video wall and said "This is my house". Once all three were in front of the panel they were asked questions about the house. They could guide Anna around the house to investigate certain points. After questioning they chose one of the ladies to sit at the top two seats of the set. They then did the same for the fellas.
The object for the 'others' was to decieve in order to win, while the real owners had to 'prove' it was theirs. Once the celebs had chosen, someone else with a special connection to the house was in invited on and the celebrity panel asked more questions before agreeing the final couple.
In the end game, a real house owner (if at least one was chosen by the panel) is secretly told the name of an object in the house. To win the prize, they had to guide Anna to the object in the Treasure Hunt style within 30 seconds without directly naming it. Winners received an oil painting of their house and a gold plated key.

Anna Ryder-Richardson
Inventor
Devised by the Chatterbox Partnership.
Trivia
It was filmed at the Pebble Mill studios.
Former contestant Kevin Oates adds: "Our show really threw the panel as my wife is black, I'm white and we invited my wife's brother and his wife (both black) and our close friends (both white). You could see the panel's faces totally unsure how to match us up!"
Web links
Opening titles from the BBC Motion Graphics Archive
See also
Feedback