Anna Ryder Richardson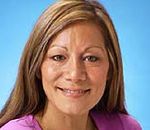 Biography
Interior designer who came to fame through the BBC stables of Changing Rooms and House Invaders.
Trivia
Her daughters are called Bibi Belle and Dixie Dot, which makes Frank Zappa and Paula Yates look positively sane.
She should not be confused with Anna Richardson (who, interestingly enough, is signed to the same agency).
Contact
c/o Arlington Talent
Web links
Feedback