This is My House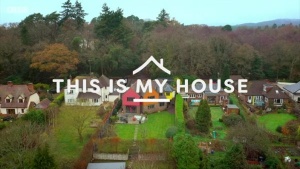 Host
Stacey Dooley (series 1)
John Bishop (2022 Red Nose Day narrator)
Sophie Willan (series 2 narrator)
Co-hosts
Panellists:
Judi Love
Emily Atack (S1)
Bill Bailey (S1)
Jamali Maddix (S1E1-4,6)
Richard Madeley (S1E5, S2)

Broadcast
Expectation Entertainment, Bacon Media Corporation & Friends Night Inc for BBC One, 24 March 2021 to 2 September 2022 (15 episodes in 2 series + 1 special)
Synopsis
Four people all claim to be the real owners of a house, and a celebrity panel attempt to work out which one's telling the truth.
The show divides into two parts. First forty minutes, we meet the four contestants. What brought them to this part of the country? What stories can they tell us about this room, this object? Everything is a potential clue. What sort of person would keep a corkscrew shaped like that, and which contestant is most like that sort of person?
Watching all of this unfold is the panel: four resident judges plus a guest each week. They're secreted away in a distant location, observing the contestants and commenting on their actions.
The resulting show is a cross between telly-watching documentary Gogglebox, fib-finding classic Tell the Truth, and home-snooping show Through the Keyhole.
After spending so long with the contestants, the ending is almost rushed. Host Stacey Dooley has quick-fire questions for the contestants, about the home and the neighbourhood and the area. What's your takeaway meal? Where's it from? What's the local paper? Who are your neighbours? Best local friends? Nearest schools? What are the buses like?
The real player then chooses one of the others to eliminate as their closest rival. The judging panel discuss amongst themselves, put a question to each of the contestants, and pick their winner.
Whoever gets picked - real or fake - wins the show's prize of £1000. It's pleasant to win such an amount, but it's not lifechanging money like they had on Bank Balance. Because the stakes are relatively low, there's no reason for bad feeling to grow.
This is My House is a hugely watchable programme. Even if we've got it on as background telly, we can't help but get drawn in and playing along. And it might be trashy, but it's such compelling viewing.
The second series chopped itself in half, reducing from an hour to 30 minutes, and dispensed with Stacey. John Bishop narrated the 2022 Red Nose Day special, with voice of The Circle Sophie Willan narrating subsequent episodes.
Key moments
We were tickled by the appearance of serial game show contestant Carolynne Selway as Anita 4 in one episode; suffice to say it wasn't her house. That episode also featured the historian Lesley Smith.
Inventor
Nick Weidenfeld and Richard Bacon
Theme music
My House by Flo Rida.
Trivia
The first three episodes on Wednesdays at 9pm, while the last three aired at 9pm on Thursdays. Subsequent episodes actually premiered on BBC iPlayer, with a terrestrial repeat at 8:30 on Fridays.
For the first series, Bill Bailey, Emily Atack, Jamali Maddix and Judi Love were joined by a guest judge, who were Laurence Llewellyn-Bowen, Rob Rinder, Jimmy Carr, Spencer Matthews and Vogue Williams, Joe Sugg, and Katie Piper. Jamali Maddix was missing from episode five, and so was replaced by Richard Madeley. Series two used Judi Love and Richard Madeley and two to three guest judges; Harry Hill, Joel Dommett and Harriet Kemsley were the only ones to make multiple appearances, with four, three and two appearances respectively. The 2022 Red Nose Day special had Claudia Winkleman, Harry Hill, Chris Eubank and Nina Wadia decide which of Deborah Meaden, Rob Rinder, Ricky Hatton and Claire Richards' house it was.
By series two, the BBC had taken to styling the title in listings as This Is MY House. The actual show logo remains all capitals with a graphic device around the "MY" neatly indicating the intended emphasis.
Web links
See also
Feedback