A Question of Pop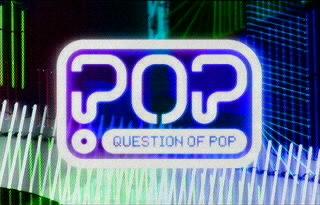 Host
Co-hosts
Team captains: Suggs and Noddy Holder (Tony Hadley in the pilot)
Broadcast
BBC North West for BBC One, 3 January 2000 to 28 July 2001 (pilot + 21 episodes in 2 series + 1 special)
Synopsis
Not much we need to say about this really other than it's good because everyone likes music, it's a nice mixture of archive pop and modern pop and is, as the title may suggest, a music quiz along the well-honed lines of A Question of Sport.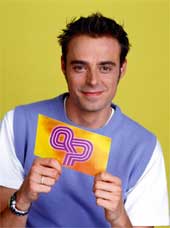 Jamie Theakston: the latterday Mike Read, perhaps?
All the rounds are the same as AQoS except some of the rounds have been retitled ('A Side B Side' instead of 'Home or Away'), the quick-fire buzzer round ends with a cymbal instead of a whistle, the set is a nice shade of blue... that's it really.
If there's one criticism we'll level at the programme it's that some of the questions are a little bit of a doddle even for pop ignoramuses like us, but we can't have Billie in tears can we?
Theakston gets more of a chance to cultivate his suave manner here than on other shows, which adds to the trademark Question Of... repartee between players and hosts. And anything that Suggs and Noddy Holder are in tends to be quite good anyway.
The 2001 series returned with new funkier graphics and set, although somehow that seemed to rip some of the soul out of the show. And is it us or is the script very lazy in places?
Key moments
Noddy Holder beating Suggs to the buzzer on the question "How is Graham McPherson better known?"
Web links
Opening titles from the BBC Motion Graphics Archive
See also
Feedback