Alan Davies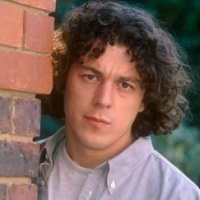 Biography
Stand-up comic successively famous for (i) advertising what was then a well-known building society, (ii) playing the windmill-dwelling magic-consultant-turned-sleuth Jonathan Creek, and (iii) getting most of the wrong answers on QI.
Trivia
As well as the amateur sleuth in Jonathan Creek, he's played a policeman in Agatha Christie's Marple, a barrister in The Brief and a murder suspect in Lewis. The last of these was in an episode titled "Your Sudden Death Question", in which he played the organiser and questionmaster of a quizzers' convention at which two of the attendees get murdered. Well of course they do, because that's what tends to happen when you hold an event in Oxford - have none of these people ever seen Inspector Morse?
Outside of legal dramas, he also starred in the restaurant sitcom Whites, and given half a chance definitely will complain about the fact that it was axed after one series.
Web links
Feedback