Outsiders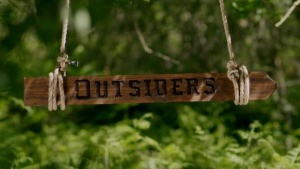 Host
Broadcast
That M&W Company / Renegade Pictures for Dave, 29 September 2021 to present
Synopsis
David Mitchell goes to the great outdoors, and invites six of his comedian friends along to spend time in the great outdoors. While there, David will set them challenges, where the "Outsiders" can win badges.
Within five minutes, the teams are hard at work chopping down trees. Well, they're attempting to chop down trees. It looks easy when the professionals do it, but the comedians quickly find that it's not easy to be a lumberjack.
Outsiders has a simple basic premise: can our teams can survive in a post-apocalyptic world, one where complex civilisation has entirely collapsed. The only thing that survives is a series of laminated instruction cards.
The challenges are the heart of the show, and they are very variable. Sometimes, we're handling dummies who have parachuted down and been tangled in a tree. Sometimes, we're doing haircuts. Sometimes, we're making mottos for the camp. Sometimes, we're acting the goat.
We reach the final part of the episode, and David hasn't sat in judgement on anything; that all happpens in the closing minutes. Each team's performance in each challenge is assessed, and those who David thinks have done well are rewarded with his badges. Whichever team has the most badges at the end is the winner of the series.
Outsiders was a bit of a work-in-progress: some challenges made for very poor television (the motto challenge was duller than ditchwater). There wasn't quite enough material to fill the slot, so there were a lot of "coming up" segments - and many of those were filled with the big spoilers.
But let's give credit where we can. Each challenge is gently entertaining, the setup is easy enough for the most casual viewer to understand, and the contestants make a good effort at each of the challenges. The atmosphere is relaxed, it's a friendly competition rather than a cut-throat one. It helps that the stakes are tremendously low, the teams are playing for badges and perhaps a little honour at the end of the series.
Participants
2021:
Toussaint Douglas
Ed Gamble
Kerry Godliman
Jessica Knappett
Jamali Maddix
Lou Sanders
2022:
Maisie Adam
Fatiha El-Ghorri
Darren Harriott
Jessica Hynes
Phil Wang
Joe Wilkinson
2023:
Roisin Conaty
Alan Davies
Guz Khan
Judi Love
Chris McCausland
Laura Smyth
Inventor
Devised by Leon Wilde and David Mitchell
Title music
Oli Julian, credited as "composer"
Trivia
Recorded at Cuffley Camp Outdoor Centre near Potters Bar.
Chris Heatley is credited as "Bushcraft Consultant"
Web links
See also
Weaver's Week review, comparing Outsiders to another show.
Pictures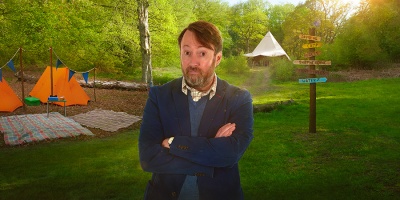 David stands outside the team camp.
Feedback