Angela Rippon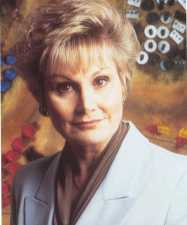 Biography
Former newspaper journalist who joined the BBC in the late 1960s and worked her way up from regional reports to becoming the BBC's first regular female newsreader in the mid-1970s, presenting the 9 O'clock News and other news programmes. She made an impression with her "Let's Face The Music and Dance" routine in the 1976 Morecambe & Wise Christmas Special, which led to her later role as host of Come Dancing. She went on to host The Antiques Roadshow and Top Gear before becoming part of TV-am's ill-fated inaugural Famous Five line-up, after which she returned to the BBC and landed right back on her feet with Masterteam. She also hosted a weekly show, Live with Angela Rippon, on the now defunct ITV News Channel. More recently, she has presented the BBC programmes 'Rip Off Britain' and 'How To Stay Young': the latter, as its name implies, gave tips on how to remain active in body and mind in old age. She has also presented programmes on dementia, showing how to spot signs of the condition and how to avoid it, among other things - she even went through dementia-tests herself, as her parents had both suffered from the condition and she was concerned that it might run in the family.
Trivia
Had a top ten album with Shape Up And Dance (Volume 2).
She made a welcome cameo appearance as herself in the BBC's 1996 comedy series, "The Legacy of Reginald Perrin".
One of Rippon's least-known claims to fame is that she was the first-ever presenter of Top Gear - many people believe that it was actually Jeremy Clarkson. The early series were shown only in the Midlands area, as the programme had developed as a spin-off from the region's local news programme, 'Midlands Today'. One of the main reasons that Rippon was chosen was the fact that she was always doing a lot of mileage, owing to her work commitments, and so many aspects of motorway driving were featured, including the quality (or possibly lack of it) of the food served at service stations.
Books / Tapes
Feel Fabulous At Fifty And Beyond (hardback)
Victoria Plum (children's fiction)
Web links
Feedback