The Wall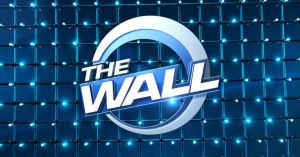 Host
Co-hosts
Broadcast
Remarkable Television, Springhill Entertainment and Glassman Media for BBC One, 12 October 2019 to 2 April 2022 (28 episodes in 4 series + 9 specials)
Synopsis
Big money Plinko. According to the contestant application form:
The Wall is the ultimate combination of strategy and knowledge.
Wildly unpredictable with heart-stopping jeopardy, The Wall gives and The Wall takes away. Expect colossal wins and heart-breaking losses, in this new game show that really can change people's lives in an instant.
In this game, pairs need the right answers the right bounces and cast-iron trust in one another to win a life-changing cash prize.
Questions are voiced by newsreader Angela Rippon.
If you can help us to expand this entry, please provide as much information as possible, using the feedback form below.
Key moments
A question on who played Captain America in the Marvel Cinematic Universe where the female contestant was shouting at the male contestant, who was in isolation, that the answer is Chris Pine, he locked in the answer Chris Pratt, which was wrong, but then Danny Dyer revealed that the answer was Chris Evans (no relation).

CHRIS PINE!
Inventor
According to the credits, "An original format created by SpringHill Entertainment and Andrew Glassman's Glassman Media in collaboration with Universal Television Alternative Studio."
SpringHill Entertainment is co-owned by basketball legend LeBron James.
Trivia
The BBC's initial press release trumpeted, "First shown on NBC in America in 2016. The most travelled format of 2017 and 2018, The Wall is an international hit and has sold to 24 territories around the globe."
Voted the Best New Show in this site's Poll of 2019.
When we say big money Plinko, we mean big money Plinko - the show's top prize was £687,495 in the first three series and £977,495 from series four onwards, either way the highest prize ever offered on a BBC production.
The first seven recorded episodes were filmed in Poland; the first six aired in autumn 2019 as series one and the seventh aired on 10 July 2021 as series two, episode seven, after the first six episodes of series two, all of series three, and the week before series two, episode eight.
Where were the series filmed? Series one was at a set used by many European broadcasters in Transcolor Studio, Szeligi near Warsaw in Poland. Series two and three moved The Wall more locally, into Wembley Arena. Series four went to somewhere even more exotic, Fly By Nite Studios on Lakeside in Redditch.
Danny Dyer announced that he was leaving the programme in May 2022, around two months before the programme was quietly dropped.
Web links
See also
Weaver's Week review... of the French version, two years before the BBC show was commissioned. And, eventually, of the BBC version.
Feedback