Barry Cryer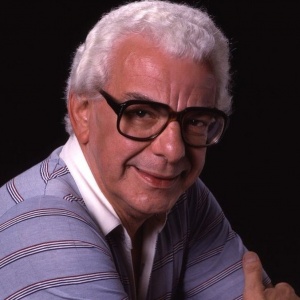 Biography
Leeds-born comedian and writer who flunked university and went into the theatre. After assisting magician David Nixon at a pantomime, he was introduced to the London scene and auditioned at its famous Windmill Theatre telling jokes before the strippers came on. He auditioned at 10.30am and was hired and on stage two hours later.
He went on to write scripts and gags for virtually every major British comedian from the 1960s onwards, including Kenny Everett, Les Dawson, The Two Ronnies, Morecambe and Wise, and Frankie Howerd.
He died in 2022, aged 86.
Trivia
He made up for his initial academic failure by being awarded an Honorary Doctorate of Arts by Leeds Metropolitan University in 2013.
In Finland he had a No.1 record, Purple People Eater, for three weeks in 1958.
Persuaded fellow Windmill artist Bruce Forsyth to keep working in comedy, after the chinned wonder decided he'd got as far as he could and was considering opening up a tobacconists. When Cryer bumped into Forsyth a year later, just before his first Sunday Night at the London Palladium, he asked what ever happened about opening the tobacco shop. "Postponed" came the reply.
Web links
See also
Feedback