Music Match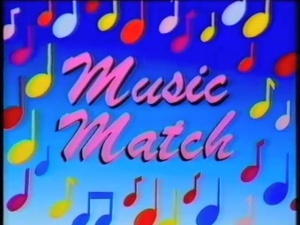 Host
Co-hosts
Team captains: Willie Rushton and Liza Goddard
Music was provided by Laurie Holloway and his band.
Broadcast
BBC1, 19 January to 27 April 1987 (13 episodes in 1 series)
Synopsis
Two teams of three (ladies vs gentlemen) participated in a quiz revolving around pop songs and titles. Celebrity captains were joined by members of the public.
Rounds included "spot the link between two songs", one where the players named songs from cartoon representations. There was a "misfit" round, spot the tune unconnected with the others and explain why it doesn't fit.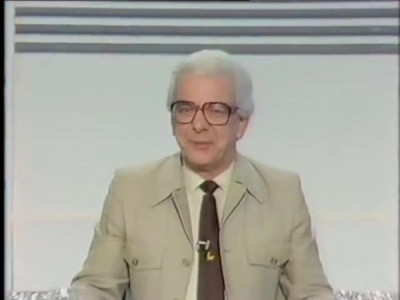 Always in tune, the host Barry Cryer.
A round of lyrics follows, Barry reads them in his deadpan style and the players identify the songs. Then it's four tunes with a link, fewer points for each extra clue. The show finishes with a music knowledge round, questions about the songs played by Laurie Holloway and his band.
As was fashionable in 1987, most of the show was played on the buzzer, only the lyrics and link rounds were assigned to a team. To save money on royalties, all music was played by the band - it was cheaper to employ a small band for a recording session than to pay for playing records.
Trivia
Music Match was one of the first quizzes commissioned by daytime BBC1, going out in what would become the cup-of-tea slot around 3pm. It was repeated a few months later in a primetime slot after Wogan.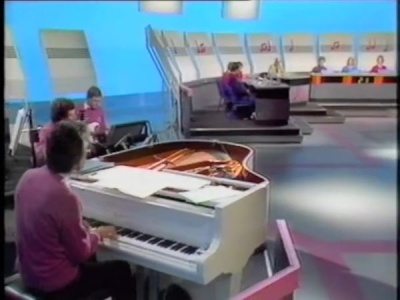 Had they borrowed the set from A Question of Sport?
Videos

A full episode from the show.
Feedback