Battlechefs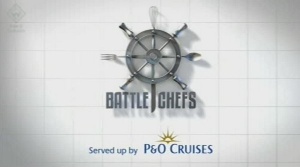 Host
Matthew Jure (narrator)
Broadcast
W, 4 to 15 April 2016 (10 episodes in 1 series)
Synopsis
Five celebrities cook while on a cruise ship. The episodes are shown each night, before Marco Pierre White declares the winner on the Friday show.
The chefs are shown around that day's port, learning dishes and buying ingredients. Then Marco Pierre White says who will be the day's head chef - all other competitors, and Marco, act under the head chef's instruction. The group cook a four-course meal for the ship's captain, and his guests.
Battlechefs kept unorthodox scores. The head chef presented 3-2-1-0 points to the other chefs, and was given marks out of 5 by Marco, the captain, and the captain's guests. More than half the week's points were awarded on head chef day.
In other ways, Battlechefs was orthodox television: cooking under pressure, Marco Pierre White barking out orders, telling the story from one problem to the next.
Title Music
Phase Music were credited for "original music".
Trivia
Funded by P&O Cruises.
Went out on UKTV's "W" channel, previously known as Watch.
See also
Feedback