Bill Bailey's Birdwatching Bonanza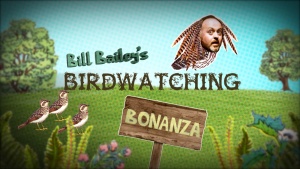 Host
Co-hosts
Team captains: Alex Zane and Jeff Green
Broadcast
Fever Media and Glass Box for Sky 1, 8 January to 12 February 2010 (6 episodes in 1 series)
Synopsis
Bill Bailey hosts as two celebrity teams, each composed of one experienced twitcher, and one novice, are set a series of six challenges. Four of the challenges are designed to test specific birdwatching skills, while the other two are bonus rounds. A straight-forward contest to win the most rounds determines the victors.
If you can help us to expand this entry, please provide as much information as possible, using the feedback form below.
Participants
Trivia
The programme went through something of an identity crisis before coming to air. The programme was originally announced as Bill Bailey's Big Bird Watch, before passing through the more simplistic, Bill Bailey's Bird Watching, before seemingly settling on, Bill Bailey's Birdwatching Bonanza!, as shown in Sky's advance programme information. However that wasn't the end of it, as the programme went through one final, albeit slight name change, by dropping the exclamation mark, shortly before it aired.
Web links
Feedback