Cannonball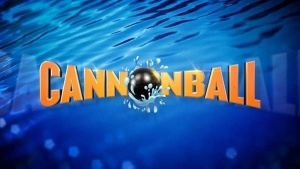 Host
Co-hosts
Frankie Bridge, Radzi Chinyanganya, Ryan Hand, Maya Jama
Broadcast
Talpa and Potato for ITV, 2 September to 31 December 2017 (8 episodes in 1 series + 2 specials)
Synopsis
A big and brash physical show, contestants perform tasks in and around water.
Each show consists of The Jump (a jump for distance), Blob (a jump for height), Knockout (steering a zorb ball into skittles), and Skimmer (surf along the top of water at speed). One of the presenters spends the episode by each game.
With 24 contenders on each show, there's a risk that we might lose track of the players. They're introduced with very brief film clips, and the narration from Freddie Flintoff carries running jokes through the programme.
Medals are awarded in each event, and the three players with most golds (then silvers, then bronzes) go on to the final. There, they jump into a target shone onto a pool of ping-pong balls: first a static target, then one with the whole target moving, and they finish with the circles within the target moving about.
The prize? "The Cannonball Cup", and the honour of winning this event.
Cannonball has sharp editing, mixing full-speed with slow-motion, instant replay, and cutting to pop music. The whole package is familiar from Total Wipeout, but it's been some years since Total Wipeout fell off its big red balls.
Like the BBC's efforts, The Getaway Car and Can't Touch This, Cannonball is the same events every week. They mix up action from all four events, and follow large personalities through the show, but we still think Cannonball doesn't have enough action to fill its hour.
It's a big and goofy show, certain to put a smile on viewers' faces.
Trivia
After three episodes at 7pm, Cannonball swapped with The Family Chase and moved to 6pm. ITV wanted to protect this show from Strictly Come Dancing, but found it impossible to avoid a clash.
Listed in some guides as Cannonball! with an exclamation mark.
Web links
See also
Feedback