Weaver's Week 2017-10-08
Last week | Weaver's Week Index | Next week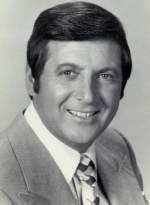 Another week, another death in the game show family. At the age of 96, we say goodbye to Monty Hall.
Born in Winnipeg, he was the host of Who Am I? on CBC Radio, Keep Talking on NBC Radio, and Let's Make a Deal for various television stations. That show's endgame – involving some doors, a car, and a number of goats – is a well-known exercise for probability students. The BBC magazine witters on but Wolfram invites us to consider the general problem, of an infinite number of goats.
And if we take an infinite number of goats, and leave them in front of an infinite number of typewriters, do we get ITV's latest Saturday night show?

Potato for ITV, from 2 September
Freddie Flintoff and a bunch of friends have gone to Malta. Where it's warm, and sunny, and there's lots of water about. Basically, the same as Manchester, apart from the warm and sunny bit.
While there, Freddie will give his friends some silly things to do. He's given these tasks names.
Knockout Get into one of those big plastic zorb sphere things. Roll down a slope at some skittles. Most skittles knocked over wins.
The Jump Grab hold of a bodyboard, and hurtle down a water-ski-jump jobbie. At the bottom of the slope, let go of the board, and hope to leap as far as you can. Winners might well leap the length of a standard swimming pool.
Skimmer Grab hold of a bodyboard, and hurtle down the same water-ski-jump jobbie, except it's lost the lip at the bottom. Drop a foot or so into the water, keep hold of the board, and hope to rush along the surface of the water as quickly as possible. Fastest time to cover 40m wins, and winners tend to hold on for dear life.
The Blob The player sits on the neck of a large inflatable doohickery. Two large men – with a total weight two-and-a-half-times the player's – jump onto the other end of the inflatable. The force propels the player upwards, and the winner has the greatest distance due up.
While Freddie commentates on the events, others of his friends meet the contestants and congratulate / commiserate with them. We've Frankie Bridge from The Saturdays and Strictly Come Dancing, and Radzi Chinyanganya of Blue Peter fame. Also there are Maya Jama, the face of 4Music and dating Stormzy; and Ryan Hand, the stand-up comic.
The show looks gorgeous. Massive expanses of blue ocean, under sun-drenched skies. The reason they've gone to Malta is so they can use the infinite pool they built for Raise the Titanic. That's not a good omen, Raise the Titanic was a notorious flop, and led Lew Grade to retire from the movie industry.
The show has a coherent structure: we meet most of the contestants in part one, saving some for part two. Each has a caricature, a stereotype they'll use in the commentary. This is necessary, we viewers have to memorise 24 people in very little time. The caricatures are done with some affection, it's not a character assassination. And, as many of the players will be on screen for less than a minute in total, there's no need to go any deeper.
Picking the best three for the final is messy. They can't use "event winners go through" – four events could produce four different winners. They choose to use "best placings" – most events won, then runner-up, then third-place, and so on until any ties are broken. Most viewers won't watch in enough detail to spot this, but we do, and it's a detail out of place.
To be fair, it's the only detail out of place. Cannonball keeps a high tempo throughout, the editing is sharp and on-point, and we see just enough action replay to get the message. There's a lush mixture of full-speed action, instant replays, slow-mo action, sharp cuts, and just the right music. Yes, it's the same style as Total Wipeout, but no-one's shown that gumption in the years since Total Wipeout was itself wiped out.
Casting is also on-point: Cannonball can be played by all ages, all genders, all skin colours, all body shapes. The only requirement is that contenders can swim, and are prepared to be gently teased on primetime network television. The contests all test different skills – a leap for height, a leap for distance, a speed test, and a precision challenge. We appreciate the distinction.
The final tests another skill: timing. Swing to Win Hit targets projected onto an array of ping-pong balls in the water. Closer to the bullseye each time for more points, most points over three swings win.
The prize? "The Cannonball Cup", and that's it. Not even a token cash prize. Still, everyone's got a few days in Malta, a useful consolation prize for all players.
Cannonball appeals to children: it looks fun, it looks exciting, it looks like something to do. Goodness, at times this column thought, "we'd enjoy doing that. We'd be absolutely shockingly abysmally rubbish at it, but we'd enjoy that rush of adrenalin, and we're not above making a prat of ourselves on network television."
ITV wants to use the Maltese pools as a base for international Cannonball – Talpa's home channel, and Channel 7 down under, have already made episodes of the format. We wish them well, but perhaps it's an uphill battle.
The main problem: every show is just about the same. Cannonball is mildly diverting, entertaining while it's on, but not something we would go out of our way to see again. Once we'd seen one episode, we had no compelling need to see any more. Indeed, we had to side-eye ourselves into watching more episodes to get this review.
So we must file Cannonball with last year's modest hits The Getaway Car and Can't Touch This – big and goofy shows for the whole family, but that didn't have any variety from one episode to the next. We hope ITV can show confidence in their format, because it is a fun little format. Make Cannonball less predictable – four qualifying games out of eight, say – and we could love the show.
Remember, this column got the same feeling from another series 1: exciting, interesting, but just a bit too repetitive. A little faith paid off for Gladiators.
This Week and Next
We're not sure what happened during some obscure corporate event in Manchester this week. While the current CEO was "delivering" the "keynote" speech, letters started to vanish from the wall behind. Was this turning into a Missing Vowels round from Only Connect? Would delegates be tested on their recall of the little details, a la The Krypton Factor? Had someone on row three started to play Countdown and needed some extra letters? We'll never know.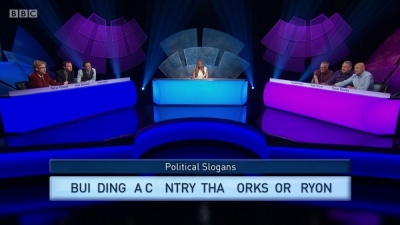 The classified quiz results are read by the man with a very dull voice.
University Challenge Granada: Emmanuel Cambridge (Ed Derby, Kitty Chevallier, Alex Mistlin, James Fraser) beat St Hugh's Oxford (Kazi Elias, Ewan Grainger, Daniel De Wijze, Aiden Mehigan) by 170-155.
University Challenge Lowland League: Edinburgh University lost to Stirling University by 0-1.
University Challenge College Bowl: California of Pennsylvania lost to Indiana of Pennsylvania by 10-26.
Mastermind: Kyle Hobman 24 (0 passes), Didier Bruyere 24 (2 passes). 4 ran.
Only Connect: Arrowheads beat Wombles 22-15.
There's been much comment amongst University Challenge fans about a long series of blowout matches. We always got the feeling that the first round was like the Curate's egg, well done in parts, soft and runny in others. This week's episode was very much one of the best, a ding-dong contest where both sides led, and the result was decided by a one-starter shootout.
At the picturesque Peffermill park, Stirling came away with the three points after a goal from Lewis Bonar. Under the baroque rules of the Lowland League, neither side is eliminated from the competition yet, and they may meet again early in the new year.
Indiana of Pennsylvania retained the Coal Bowl for the sixth straight season, behind Lenny Williams' strong arm. The Pennsylvania State Athletic Conference has simple rules, but feeds into the Division II playoff, and that makes no sense to anyone, least of all the players.
Mastermind paid OVER on the 77-point total over-under. Kyle Hobman won this week, the television comedy Parks and Recreation helped him to 24 (0 passes). Just behind: Didier Bruyere, 24 (2 passes). There were 22 for Lawrence Cook, and 21 for Stella Traynor.
Arrowheads and Wombles on Only Connect with a very brief tribute to Tom Petty – "American girl" was a clue in the week when he died. And there was a sense of "have they never asked about Henry VIII's wives?" until someone explained that these weren't in order, but the mothers of English monarchs. Good question. The Arrowheads (Sarah Lister, Nick Lister, Hannah Hogben) beat the Wombles (Mike Arrowsmith, Charlie Talbot, Duncan Palmer) by 22-15.
BARB ratings in the week to 24 September.
Strictly Come Dancing (BBC1, Sat) came back, and turned it all up to 11.05 million viewers. Top non-game was Coronation Street (ITV, Mon, 8.4m). Bake Off (C4, Tue) continued its slide to irrelevance, 8m is the lowest mark of the series so far.
The X Factor (ITV, Sun) concluded its auditions with 6.95m viewers. Celebrity Masterchef finished with a win for Angellica Bell (BBC1, Fri, 5.5m). Pointless Celebrities (BBC1, Sat, 3.75m) had a new episode.
University Challenge (Mon) topped on BBC2 with 2.65m, with Dragons' Den (Sun) on 2.45m. The Big Family Cooking Showdown (Thu) had 1.4m, and House of Games (Mon) went into its final week with 1.25m. Danger Mouse (CBBC, Fri) had 180,000 viewers and the voice of John Oliver, so wins.
Catsdown (C4, Fri) took 1.6m, and The Crystal Maze (C4, Fri) 1.25m. Celebrity Juice (ITV2, Thu) scooped up 1.15m, and A League Of Their Own (The Satellite Channel, Thu) 810,000.
Other strong digital commissions and acquisitions: Taskmaster (Dave, Wed, 660,000), Bromans (ITV2, Thu, 345,000), Masterchef Down Under (W, Mon, 265,000), and My Kitchen Rules Down Under (UK Living, Mon, 180,000).
Three of CBBC's greatest talents host Taking The Next Step (CBBC, Mon). There's a charity run for Celebrity Hunted (C4, Tue), and a new run of Four in a Bed (C4, weekdays). Blind Date Ireland reaches TV3 (Sun).
Photo credits: Potato (part of ITV Studios), Andi McLellan. Pic of Monty Hall is public domain.
To have Weaver's Week emailed to you on publication day, receive our exclusive TV roundup of the game shows in the week ahead, and chat to other ukgameshows.com readers, sign up to our Yahoo! Group.