Car Booty
Host
Co-hosts
Expert: Mark Franks
Dermot O'Leary (Comic Relief special)
Broadcast
Leopard Films for BBC One, 26 April 2004 to 15 October 2010 (11 series)
Synopsis
Less of a gameshow, more of a lifestyle show. The presenter shows up at the home of a family, who then rummage around, and try and find all sorts of tat to try and sell at car boot. The items are valued by an expert, who invariably tells them that their treasured childhood possessions are worthless.
We then watch the family attempt to sell all this stuff at a car boot sale, in order to try and make a certain amount of money, usually to finance a meal out/trip to a theme park/new shower. It would appear to be very fixed, as teams seem to make their target despite not selling half their stuff.
All in all, a total waste of time, but half an hour or so whizzes by quite pleasantly. Not unlike going to a car boot sale really.
Trivia
One of the items sold once was a consolation prize from Lucky Numbers, signed by the host Shane Richie (one of the family members had been on the show, and won it). They sold it, too!
A charity version, Comic Relief Does Car Booty, was broadcast in the run-up to Red Nose Day in 2007.
Web links
Pictures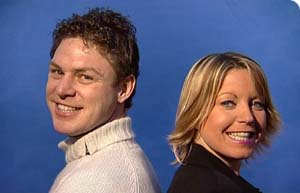 The resident expert and the host
Feedback