Clement Freud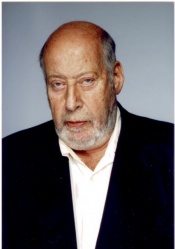 Biography
Former restaurateur and Liberal MP with an extremely varied career to match - who else can claim to have improved British Rail sandwiches and helped to bring down the 1979 Callaghan government? He was famed for his deadpan wit on panel games - especially Just a Minute on which he was a regular for more than thirty years.
He died on 15 April 2009, aged 84; only after his death did it emerge that Freud had been a serial sex offender.
Trivia
He was a grandson of the leading psychoanalyist Sigmund Freud.
For reasons that have never been made public, he was estranged from his artist brother Lucian Freud and had reportedly not spoken to him in over 50 years. On a happier family note, Clement was also the father of TV presenter Emma Freud, whose main claim to gameshow fame is hosting the last series of Worldwise, and via Lucian, he was also the uncle of The Answer Trap trapper Frank Paul.
The family moved to Britain in 1933, and Clement went to St Paul's School, in London, before going into the hotel business as an apprentice at the Dorchester in London.
He was a liaison officer during the Nuremberg war crimes trials.
He appeared in a series of pet food adverts with a dog called Henry.
While in the Commons, Freud introduced bills to reform official secrets and Sunday trading, foreshadowing similar changes from the government by over a decade. After defeat in the 1987 election, he was given a knighthood for his services to parliament.
He was named After Dinner Speaker of 1973 by the Guild of Professional Toastmasters, and served as Rector of the Universities of Dundee (1974-80) and St Andrews (2002-5).
Web links
Feedback