Ed Vs Spencer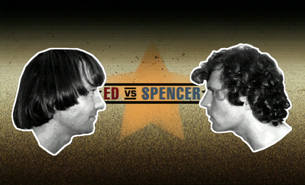 Host
Ed Leigh and Spencer Claridge
Broadcast
Monkey for Sky One, 24 November 2004 to 26 January 2005 (10 episodes in 1 series)
Synopsis
UK version of the off-beat Canadian format where two "best friends" take part in a series of challenges to prove who is the best - whether it be who can become most famous, who can get the most phone numbers, who can contract the most illnesses or whatever.
Sometimes the Canadian Kenny Vs. Spenny epsiodes would go gloriously off beam. In the boxing episode, one built a prison for the other and locked him in there to enforce a default, enabling him to win the match without training or throwing a single punch. Sadly, the UK version never had the same knockabout appeal and it was dropped after one series.
It was rather obviously ripped off by the Ant V Dec segment in Saturday Night Takeaway.
The following year, Sky created a show that had the exact same format and concept as Ed Vs Spencer but with even more extreme challenges, which was Mission Implausible.
Key moments
Ed Leigh briefly hit the headlines (well, if that's what you call page 17 in the Sun) by handcuffing himself to Big Brother contestant Vanessa Nimmo at a London celebrity party. This was part of a challenge to see who could become the most famous.
Inventor
Kenny Hotz and Spencer Rice, who featured in the original Canadian format Kenny versus Spenny.
Trivia
The executive producer is Will MacDonald, of TFI Friday and Carry On Campus fame.
Web links
Pictures
Ed and Spencer. Or is it Spencer and Ed?
See also
Feedback