Emma Walford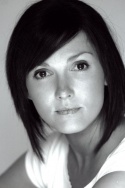 Biography
Multi-talented actress/singer and TV presenter from Denbighshire. Over the years, Emma has been a singer-songwriter with Eden (an all-girl Welsh group) and featured in a wealth of drama series on S4C + Radio Cymru. In the world of game shows, she's known as the sarcastic headmistress Emma Worthington from the series Crafwr - a character which was later animated for the live interactive series WAP!.
Nowadays, she co-presents S4C's weekday afternoon magazine, Wedi 3.
Trivia
Emma wrote the 2003 winning song for Can i Gymru (Song for Wales). The duet Oes Lle i Mi was co-performed by Eden bandmate Non Parry.
Web link
Profile and CV at boomtalent.co.uk
Feedback