Fake!
Host
Co-hosts
Art historian: Rose Balston
Broadcast
IWC Media for Sky Arts, 28 March to 16 May 2017 (8 episodes in 1 series)
Synopsis
Subtitled "The Great Masterpiece Challenge", this was an art history series using a competition as a hook. In seven art galleries across the country, genuine masterpieces are replaced with copies, and the public are invited to come along and try to pick out the forgery. Some of those who succeed in this endeavour are then invited to the final at the Ashmolean Museum in Oxford to prove their success is not a fluke, and the prize for the winner is for renowned/notorious forger John Myatt to paint them a "genuine forgery" of their choice.
Pictures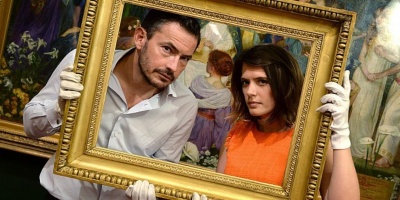 Giles and Rose: Not forgers - they've been framed.
Feedback