Get Set Galactic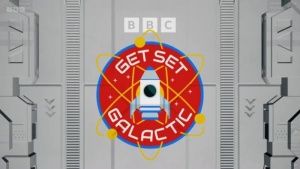 Host
Ayo Sokale, Sam McKaylin, and James Stewart
Broadcast
Hello Halo Kids for Cbeebies, 13 May 2023 to present
Synopsis
Science activities for the preschool audience.
Two teams of two take part in activities like "will this float" and "is it heavier" and "what food group is this in?" Best at the activity wins a shiny sparkly test tube, the scoring device on Get Set Galactic.
With three test tubes for the final activity, the show result is decided by one final physical challenge. Winning pair get to "spin the solar system" and whichever planet they land on determines which prize they leave with. Everyone gets a badge for the topics they've covered (yes, in the Hey Duggee! style) and some science books. Losing team get a magnifying glass each, winners have magnets and their major prize.
Get Set Galactic is set on S.T.A.R.S., the Space Technology And Research Station in outer space. The resident crew are James, Ayo, and Sam; they always wear blue, red, and green overalls. The science concepts are introduced through very clear animations, and the same narration each time the concept's introduced.
Like on Swashbuckle, a light story in three acts runs through each episode. Act 1: something has gone wrong aboard STARS! Act 2: Ayo works out how she and Sam can fix it, by following the pioneers of science. Act 3: Ayo and Sam fix the problem, and all is well.
At heart, Get Set Galactic is education through experiment and lecture. The show feels like it's pitched at the older end of the Cbeebies audience (4-6 years old), though younger viewers will doubtless learn something.
Theme music
Banks & Wag, credited as "Composers".
Catchphrases
Call-and-response: James says, "Try it and ...", the audience shouts "Test it!"
See also
Effectively a replacement for Swashbuckle as Cbeebies' fun-with-prizes show.
Feedback