Swashbuckle
Host
Gemma Hunt
Co-hosts
Ella Kenion (as Captain Sinker)
Joseph Elliot (as Cook)
Richard David-Caine (as Line)
Broadcast
Cbeebies, 6 July 2013 to present
Synopsis
A team of young Swashbucklers take on cheeky pirates to win jewels for their treasure chest. There's excitement and drama through to the final game to see if the team of infants will win and whether Cook, Line and Captain Sinker will walk the plank!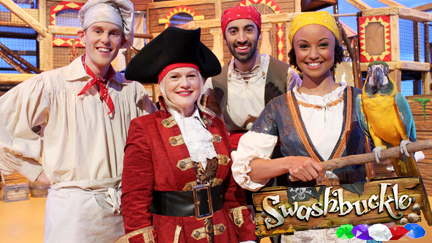 Cook, Sinker, Line, and host Gem.
If you can help us to expand this entry, please provide as much information as possible, using the feedback form below.
Trivia
The first physical game on Cbeebies, the channel for very young children. The press release cites the show's educational aims: "All of the games are designed to incorporate the physical development goals that children experience at school including co-ordination, speed, balance, and aim."
Web links
Feedback