Gibberish

Host
Broadcast
Celador and BBC North for BBC1, 16 March to 15 May 1992 (40 episodes in 1 series)
Synopsis
Sorry, we have no information for this programme as yet. If you can help us, please supply as much detail as possible using the feedback form below. Thank you!
Inventor
David Briggs, Sarah King and Richard Knight
Theme music
Keith Strachan
Web links
Celador Productions' Gibberish Page
Pictures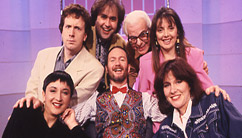 A group of celebrities.
Feedback