Hewlfa Drysor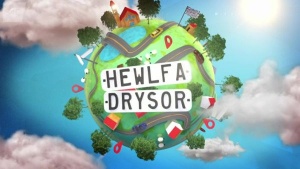 Host
Lisa Angharad and Welsh Whisperer
Broadcast
Avanti for S4C, 26 December 2019 to 4 April 2021 (Pilot + 5 episodes in 1 series)
Synopsis
A hunt for treasure, you say? One built around a car, with questions to answer and stunts to do? Where do we sign up?!
Three teams spend an afternoon driving around their local area, observing the details of their path, and stopping here and there for extra challenges. At the end of the hour, points are totted up, deductions are made for excess mileage and extra time, and a winner is declared. A snarky commentary helps keep us viewers on track.
Hewlfa Drysor had a tremendous sense of place, it showed off the unusual sights in its area, and smuggled in some brief history lessons. And it had a tremendous pace, clues and stunts came thick and fast, letting us build up a portrait of the people in each team. We were reminded of Channel 4's classic Treasure Hunt, mixed with the contemporary tech and joie de vivre of BBC1's The Button.
Trivia
The title translates as "Hunt for treasure".
Web links
See also
Feedback