House of the Year
Host
Co-hosts
Des Ewing, Michael Dunn, Suzanne Garuda
Broadcast
BBC One Northern Ireland, 22 February 2010 to 6 February 2012 (19 episodes in 3 series)
Synopsis
Top interior designer Laurence Llewelyn-Bowen tours Northern Ireland, visiting three homes in each county. Which will he pick as the best?
In his efforts, he's guided by Des Ewing, an architect; Michael Dunn, a freelance property consultant; and Suzanne Garuda, another interior designer.
If you can help us to expand this entry, please provide as much information as possible, using the feedback form below.
Web links
Pictures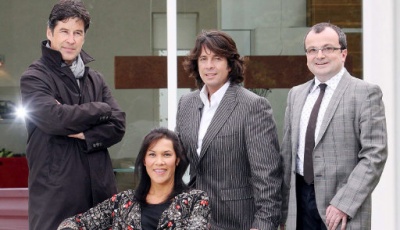 The judges. (l-r) Des Ewing, Suzanne Garuda, Laurence Llewelyn-Bowen, Michael Dunn.
Feedback