Scotland's Home of the Year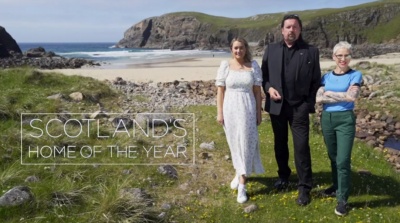 Host
Narrator: Anne McAlpine (as Anne Lundon to end of 2022 series)
Co-hosts
Judges:
Michael Angus
Anna Campbell-Jones
Kate Spiers (not Christmas 2022 or 2023 series)
Banjo Beale (Christmas 2022, 2023 series)
Broadcast
IWC Media for BBC Scotland, 10 April 2019 to present
Synopsis
Three judges travel around Scotland looking for the most amazing home in Scotland.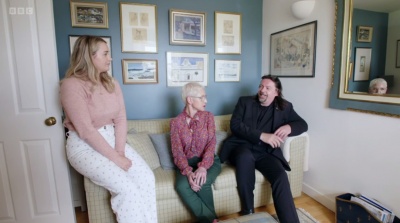 Kate, Anna and Michael make themselves at home
The panel judge three houses on functionality, distinctiveness, and clever design. They're also looking for that special ingredient to turn a stunning house into a perfect home. Each judge scores out of 10, with one judge's score on each house held back for the reveal at the end (though you can generally tell where it's heading anyway). The winning candidate in each episode goes through to the final, where one of them is crowned Scotland's Home of the Year.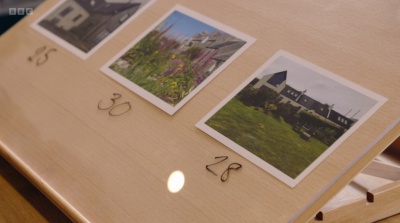 The hi-tech scoreboard
Touring the length of the country are Anna Campbell-Jones (celebrated interior designer), Michael Angus (architect and university lecturer), and Kate Spiers (lifestyle blogger). Interior Design Masters champion Banjo Beale is to cover for Kate Spiers in the 2023 series while Spiers is on maternity leave.
Champions
2019: The White House, overlooking Kirkcudbright Bay, for owner Lesley Smith
2020: Victorian conversion project on Park Terrace in Kelvinbridge, for owner Hugh Berry
2021: The Moss in Killearn, for owner Karen Welstead
2022: New Tolsta near Stornoway, for owner Tom Hickman
Christmas Home of the Year
2021: Corvisel House in Newton Stewart, for owners Anne Macdonald and Jonny Lyons
2022: Easter Shian Farmhouse near Dunkeld, for owners Dave Evans and Debbie Halls-Evans
Inventor
Based on the 2013 Norwegian format Årets Hjem ("Home of the Year"), via Ireland's Home of the Year, which has been running on RTÉ since 2015.
Web links
Official Facebook group, Instagram, and Twitter accounts.
See also
Feedback