Insides Out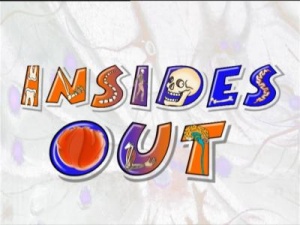 Synopsis
Childrens game show themed around the body, with the final game where the contestants had to build a model of a body.
Games included putting together a set of teeth, a tug of war and a game involving retrieving items from a giant stomach.
The end game involved collecting up to eight pieces of each of two giant bodies, one of Doctor Mark, the other of Doctor Marsali. Each body had eight pieces, a heart, lungs, stomach and another "innie" part, plus an arm, a hand, a leg and a foot. The first team to retrieve all eight pieces and complete their body won. Teams were able to have body parts already available at the start of this game, by winning body parts in earlier challenges.
The star prize for winning players on each show was announced as a chance to see "the biggest body in the world". This translated into family tickets to the Millennium Experience exhibition which was held at the Dome in 2000.
Inventor
Nick Hopkin and Simon Scales
Theme music
Richard Webb and Matthew Katz
Web links
Opening titles from the BBC Motion Graphics Archive
Feedback