Irene Thomas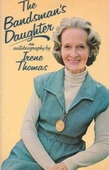 Shows
Who Said That? (compiler and presenter)
Contestant or panellist on many radio shows, including:
Loose Ends (devisor)
Biography
Elsie Irene Ready was a former chorus girl who appeared in several movies. After finding that she knew the answer to many quiz questions on the radio shows she listened to she entered and won Brain of Britain. Some years later, after much lobbying to the producers, she appeared on Round Britain Quiz where she remained for 30 years. She went on to become a regular on many radio quiz programmes, as well as occasional TV appearances.
She died in 2001, aged 80. For a full biography, read this Weaver's Week article.
Trivia
The first question she was asked on radio was what a "hatchment" was. (The, rather morbid answer is: a panel upon which the arms of a deceased person are temporarily displayed.)
She kept her rejection letters from producers in a drawer marked "Lovely Replies".
She has a famous quotation in the ODQ: "Protestant girls take the Pill, but Catholic girls take The Tablet". She didn't know about this until the X Marks the Spot question setter pointed this out during a recording.
Books / Tapes
The Almost Impossible Quiz Book
Web links
Feedback