Jeremy Paxman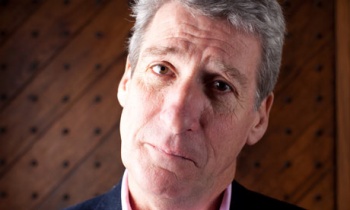 Biography
Tough, some might say downright rude, journalist, author and newsreader. "Paxo" is best known for his quarter-century of stuffing politicians on BBC2's Newsnight from 1989 to 2014. From 1994 to 2023, his whine of "Oh, do come on..." was barked at hesitant students on University Challenge and its many themed spin-offs. He was given the job possibly as a consolation for not picking up the somewhat more prestigious role of chairing the BBC political institution Question Time.
Paxman's books include a treatise on The English and the joys of fishing. Other TV programmes he has presented include the mid-90's studio discussion show, You Decide - With Paxman, several programmes on the great poets, an excellent series regarding (and entitled) The Victorians, which he also wrote, and a children's poetry contest, held at Oxford's Sheldonian Theatre.
Trivia
He was once sent a stolen Enigma machine through the post.
Somewhat bizarrely, Paxo came 16th in a 2006 Readers Digest poll to find Britain's Silliest Celebrity. He was also voted Britain's Sexiest Brain in a Yougov poll the same year.
Rather surprisingly, he was once the subject of the BBC's family history series, Who Do You Think You Are? At one point, he was reduced to tears by the horrific plight of some of his ancestors. However, it wasn't long before he returned to his usual abrasive persona: when asked how the experience had affected and/or changed him, his response was "What a ridiculous question!" and other comments to that effect. (He had reacted similarly adversely early on in the programme when asked questions relating to the fact that he had some Scottish blood).
He made a brief appearance as himself in a 2000 edition of The Vicar Of Dibley.
His early TV career included working as a news assistant and reporter on BBC Northern Ireland and Panorama in the 1970's and then as a newsreader on the BBC's Six O'Clock News (alongside Sue Lawley and Nicholas Witchell) when it started in 1984. However, it wasn't until a few years later that he started to show off his abrasive interviewing style when he became the main BBC Breakfast Time anchorman: he joined Newsnight fairly soon after that. A memorable clip of Paxman's BBC Northern Ireland days was shown by Angus Deayton on Before They Were Famous: Paxman was eating Christmas dinner and discussing its origins with his hostess, wearing a purple party hat from a cracker. Not quite the image we normally associate with him, you'll no doubt agree, but then we've all got to start somewhere.
His most famous Newsnight interview has to be the one with Michael Howard on 13 May 1997, in which he asked the (by then) former Home Secretary the same question 14 times: "Did you threaten to overrule him?" (i.e. Derek Lewis, the head of the Prison Service). Howard, clearly less than impressed, avoided giving a direct answer, merely stating that he did not overrule Lewis. It later transpired that Paxman had been told in his earpiece that they were late going into the next link and so he would have to keep the interview going - and he couldn't think of any other question to ask.
And what about Paxman's worst moments on Newsnight? Well, the first that springs to mind is the occasion when he was fronting an outside broadcast in Berlin following the fall of the city's infamous Wall. Paxman and his guests, who included the veteran broadcaster Charles Wheeler, could barely make themselves heard due to the sound of fireworks going off all around them. When Paxman asked Wheeler to comment on the big event, the latter simply responded unhelpfully, "Jeremy - this is pure Monty Python, with all those fireworks going off!" "I'm only obeying orders, Charles", protested Paxman in an aggrieved tone.
The two other occasions that Paxman would probably rather forget are, firstly, the time that he was unfortunate enough to have a nasty coughing-fit just as Newsnight started - "...Always happens at the worst time", he declared wryly. And then there was the time in 2004 when they decided to bring the weather forecast into the programme and Paxman was uncharacteristically ill at ease delivering it - not surprisingly, this feature didn't last long.
Paxo has two entries in the Oxford Dictionary of Quotations. Naturally, "Did you threaten to overrule him?" is one; the other is what the book describes as his "habitual adjuration to contestants on University Challenge": "Come on! Come on!" - although the latter phrase has now been largely replaced by, "Let's have it, please!"
As mentioned above, Paxman's recent series on the Victorians was highly impressive, but decidedly contrary to his obvious interest in the subject was a controversial comment he had made on University Challenge 11 years earlier: he had referred to Queen Victoria as "an old trout". A number of viewers were definitely not amused.
While Paxman more than proved himself on University Challenge and proved very efficient in his role as host, his abrasive style, which is very different from Bamber Gascoigne's highly courteous and easy-going manner, did not always go down well with viewers. However, he had a strong supporter in Gascoigne, who always stated in interviews that he considered Paxman's style to be very appropriate to the modern era.
As a student (at St Catharine's College, Cambridge in 1971), he applied for the University Challenge team but didn't make it. When he was confirmed as the new host in 1994, he told an interviewer, "I am looking forward to chairing the programme, especially since the last time I tried to take part, I was kept out of the team by a lot of people in anoraks."
Books/Tapes
A Life in Questions (paperback)
The English: Portrait of a People (paperback)
The Political Animal: An Anatomy (hardback)
Fish, Fishing and the Meaning of Life (paperback)
On Royalty (hardback)
Black Gold, a History of Coal in Britain (paperback)
Contact
c/o Capel & Land Ltd, 29 Wardour Street, London, W1D 6PS.
Web links
See also
An appreciation from Weaver's Week, on Paxman's retirement from University Challenge
Feedback