Bamber Gascoigne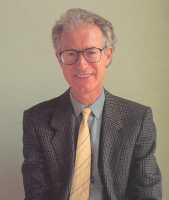 Biography
The friendly face of academia, Bamber Gascoigne is best known as the original host of University Challenge. Famously, his dedication to the job was such that he painstakingly verified all the questions himself, and re-wrote them if they didn't come up to his exacting standards.
He also presented the 1977 landmark documentary series The Christians and has written lots of books, including several on printmaking and a single-volume encyclopaedia of British history, as well as huge amounts for his own History World website. He also presented a series of programmes on the Great Moguls in the early 1990s.
He died at his home in Richmond in February 2022, after a short illness.
Trivia
His name is an anagram of "Organise BBC game".
He made 979 appearances on University Challenge in total, including the 1995 Grand Final, in which he returned to present the trophy to the champions, Trinity College, Cambridge. He has also made many very welcome contributions to programmes celebrating the success of the show - as well as to a programme shown as a tribute to Mastermind when it finished its original run. In the latter programme, he stated that when 'Mastermind' began in 1972, he and the rest of the 'University Challenge' team felt that 'Mastermind' would be quite a serious contender, if not a threat, to their show. It's now certainly safe to say that both shows have more than stood the test of time, since they both originally ran for 25 years before being first axed and then resurrected several years later - and of course they both continue to run very successfully today.
One of the episodes of The Young Ones was named after him. In that episode, "Bambi", Griff Rhys Jones portrayed him in a spoof match between Scumbag College and Footlights College, Oxbridge.
Mark Gatiss (The League of Gentlemen) played Bamber in the 2006 film Starter for Ten.
Back in the 1950s/60s, Bamber was quite the playwright. His most famous work was the hugely successful musical revue Share My Lettuce which featured rising stars Kenneth Williams and Maggie Smith. In 1967 his play Leda Had a Little Swan was officially banned by the Lord Chamberlain, an event which was (in a small way) a catalyst for the abolition of theatrical censorship the following year.
He was also the original host of Granada's film review show Cinema which ran for eleven years - though he only did the first three months.
He made a surprising but very welcome cameo appearance as a headmaster in the popular ITV 1970's-set sitcom "The Grimleys" in 2000, alongside Brian Conley, Amanda Holden and Noddy Holder.
Among the book's other merits, the preface to his 1993 Encyclopedia of Britain is an interesting attempt to define that ubiquitous yet fuzzily-understood quizzing term, "general knowledge". The entry for Gazza in that book notes that one effect of the footballer's tears at the 1990 World Cup was that "suddenly everyone in Britain could spell the name Gascoigne".
In 1979, Bamber was the witness to the burial of the "golden hare" jewel that was the prize in Kit Williams' national treasure hunt, Masquerade. As a result Bamber was for a couple of years inundated with pleas for help (politely rejected), bribes (returned) and at least one stranger turning up on his doorstep claiming to be a long lost relative in an attempt to wheedle the hare's whereabouts from him.
In 2013, he rather unexpectedly inherited a somewhat run-down old country house, West Horsley Place near Guildford, from a distant relative who had died without a direct heir. Fans of the sitcom Ghosts will recognise it as "Button House", the somewhat run-down (and haunted) old country house unexpectedly inherited in remarkably similar circumstances.
When University Challenge was revived in 1994, Bamber was invited to host it again. Although he was tempted, he eventually turned it down, partly because he was undertaking a major writing project at the time and partly because he felt that, after 25 years of painstakingly checking and rewriting questions for every single show, he could not go through it all again. Although his style of hosting was very different to Jeremy Paxman's (ie Bamber was highly efficient, yet at the same time always kind and courteous, while Paxman is also efficient, yet far more abrasive in his approach), Bamber has always stated in interviews that he feels that Paxman's style actually fits in very neatly with the modern age.
Bamber Gascoigne was appointed CBE in June 2018, for services to the arts.
Books / CDs
Milestones in Colour Printing 1450-1850
Share My Lettuce - Original Cast Recording
Web links
See also
Feedback