Jigsaw (1)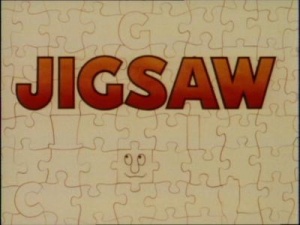 Host
Adrian Hedley (all series)
Janet Ellis (1979-83)
Co-hosts
Character voices: John Leeson
David Cleveland and David Wyatt (Cid Sleuth section, 1979-81)
Chris Emmett (1980)
"The 'O' Men": Sylvester McCoy and David Rappaport (1980-84)
Wilf Lunn (1980-84)
Tommy Boyd (1981)
"Dot": Julia Binsted (1983-4)
Paul Shearer (1984)
Howard Stableford (final series, 1984)
Broadcast
BBC1, 16 July 1979 to 15 June 1984 (50 episodes in 6 series)
Synopsis
Viewer participation competition where the object each week to identify a six-letter word.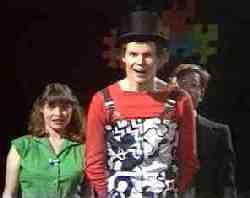 Janet Ellis and Adrian Hedley
Each letter would be identified via a sketch of some variety, which nearly always included some brilliant miming by host Adrian Hedley. At the end of the programme, Mr Noseybonk (a man - Hedley in disguise, of course - wearing a really quite scary mask with a very, very long nose and a pair of ill-fitting trousers) would run around a park or some such location, with some jaunty background-music, looking at different objects - the first letters of these prominent objects being the answer to the write-in competition.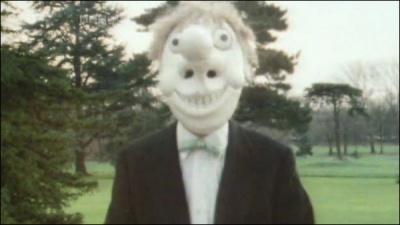 Mr Noseybonk
In the early series there would be a sketch involving inept detective "Cid Sleuth", and other characters included the O-Men (Sylvester McCoy and David Rappaport), Biggum the Scottish giant - all you ever saw of him was his sandals - and Pterry the pterodactyl. After Janet Ellis left to join Blue Peter, Julia Binsted provided a replacement of sorts as "Dot", a character who changed from a silver dot on the screen into a human and could manipulate the visual elements of the show.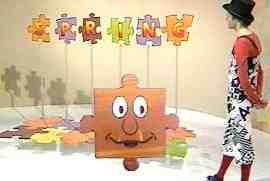 Jig (foreground) reveals the six-letter word
Reprised to an extent with See it, Saw it.
Inventor
Devised by Clive Doig.
Web links
See also
Feedback