Janet Ellis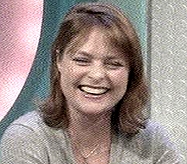 Biography
Another presenter who started out as an actress. Janet had bit-parts in The Sweeney, Doctor Who and "Jackanory Playhouse" before getting the Jigsaw gig. She did three years presenting Blue Peter as well, then seemed to vanish for a while, occasionally popping up as an advert voiceover, or in those YMCA fitness videos she did when they couldn't afford Anthea Turner anymore. Anyway, she's back on proper telly now.
Trivia
She is the mother of erstwhile pop warbler, Sophie Ellis-Bextor. She also has a son: she left 'Blue Peter' when she was pregnant with him.
Apparently she did some of the voices for bizarre Mexican-themed cartoon series El Nombre.
During her time on Blue Peter, she did two parachute jumps - impressively so, given that she suffered from a fear of heights. She broke her pelvis in the first jump, but was persuaded by the programme's editor, Biddy Baxter, to get back into parachuting once she had recovered. Apparently, when Ellis told Baxter that she did not feel too confident about it, Baxter told her, "Think of your confidence as in ketchup in a bottle - if there's just a tiny bit of confidence in the bottom, turn the bottle upside down and shake it out!" Despite what happened the last time she'd done that, the advice clearly worked, and on her second attempt she become the first British female civilian to complete a 90-second freefall.
Contact
NCI Management, 2nd Floor, 51 Queen Anne Street, London W1G 9HS
Web links
NCI Management Janet Ellis page
Feedback