Anthea Turner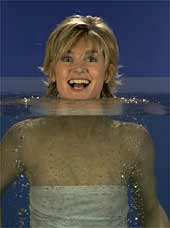 Biography
Anthea was first seen on national television on But First This, a continuity programme for children. She also hosted Top of the Pops for three years.
In 1992, Anthea became only the 19th ever presenter to join the flagship BBC children's magazine show Blue Peter. Two years later, she joined GMTV to anchor with Eamonn Holmes.
Anthea presented the BBC's National Lottery Live show for 18 months, seemingly popularly, but her later return with the Big Ticket was a mistake - that was the format's fault, not hers. Other shows such as Turner Round the World, and the one-off pilot for Change Your Life Forever did not made much impact, though Perfect Housewife was quite successful considering it was only on the digital channel BBC Three.
She also filed reports for ITV's holiday show, Wish You Were Here?
Trivia
Anthea began her career with a local BBC radio station, reading the traffic reports.
Had a ten year relationship with Bruno Brookes.
Books / Tapes
Underneath the Underground: The Ghost of Knightsbridge
Underneath the Underground: the Westminster Mystery
Contact
Michael Joyce Management, 4th Floor, 14 - 18 Heddon Street, London, W1B 4DA
Web links
Feedback