Your Kids are in Charge
Host
Anthea Turner and Wendy Turner-Webster
Broadcast
BBC One, 8 July to 12 August 2000 (6 episodes in 1 series)
Synopsis
Kids, eh? A mixture of 'ahhh' and 'eugh!' is all we can think about. Of course, given the youth culture of today don't be too surprised if by next series it's been renamed Your Kids Are Being Charged.
Two families of eight adults and two children (who are in charge, natch) compete in six 'fun-filled' rounds. In the first four rounds, the ickle children get to decide which member of their family they would like to humiliate on national television. Amusingly, the kids write down the name of their 'chosen' player on a card, but the camera zooms in so close that we can see that one of the production team have written down the name of the player the kids must choose in small writing on the card. Oops!
Before the game begins, Anthea goes up to the families and asks a member who they think would be best at the game and at the same time, who thought they'd be the worst. And then we see who the kids have decided which inevitably is the player someone has declared the worst choice. Then the kids are asked why and who they definitely wouldn't have chosen.
Now it gets funny/personal with comments like "I wouldn't have picked my sister because she's rubbish at everything!" and then Wendy will rub salt into the wounds by asking a question like "Have you ever seen your sister kissing somebody?" which will provoke all sorts of crazy how-dare-you-style responses. There's something somewhat sinister in Miss Wendy Turner (previously of good nature) getting the kids into revealing various embarrassing things, some of them distinctly personal, about various members of the family.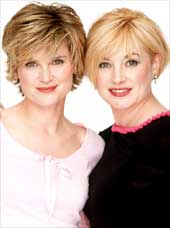 Anthea and Wendy
In the worst-explained scoring system ever, the remaining family members are given ten points and they can decide how many they want to risk on their player winning the duel. Hence, if you bet 7 and your player wins, you get 10 + 7 = 17 added to your total, otherwise you get 10 - 7 = 3. To be fair, it's not a bad idea, but they need to use a physical metaphor or computer animations to explain this much better.
That aside, there's high marks for the set which is fairly huge, and big marks for the interesting games they use... in Friends Like These. Sadly, no marks at all for the lightweight games which they used in this show, namely:
The Board Games Round: In the very first show, this was based on Operation. But not a huge version of Operation which would make best use of the huge set, oh no. This was a usual-size version. Very Saturday night. Not.
The Sporty Round: e.g. Pot three nicely lined up shots on a Pool table which were reset every time. Whoever was the least inept won.
The Brainy Round: e.g. The players picked will try to name as many of the Top 10 'things' as they can within 45 seconds. This week it was Top 10 highest rated films at the UK Box Office.
The Party Tricks Round: e.g. Whoever was most successful at whipping away tablecloths under plates.
After four rounds of laughter mixed with tedium we come down to... The Eliminator. Blowing things up is fun right? Wrong, especially when the thing you're going to blow up is a household object. This week: a verruca sock. Mmm, nice. The sock was pumped up a bit to start off with and then it would stop. The families have to decide how much of their oh-so-valuable points they want to risk on it not blowing up and bursting when some more air is forced into it. When they've all decided, more air is blown into the object. If it hasn't burst then win what they bet and they do it again, but obviously the chance of it blowing up is much bigger this time. Whoever has the most points goes thorough to the final round. It's a game that's been lifted straight out of the pilot show for Speculate!. As the families can bet any of their points accumulated so far, it seems technically possible for the family with any decent lead to block the other family out the game, but we'll need to see a few more shows to be sure of our maths.
The losing kids however don't go away empty handed, they win a trolley dash through their favourite toy store. Now as Supermarket Sweep shows, trolley dashes can be fun, so why the hell don't we get to see it? Especially as it would have made a good counterpoint to the awfulness of the other games.
And those big Saturday night exciting games continue into the final - a basic reaction tester. A ticket to a top prize is held by a machine above the players hands which are touching a frame. The machine will release the ticket after a buzzer goes. The player must slam their hands together and catch the ticket. Simple eh? And dull too, but let's bear with it. The kids get to pick the four players who up to now haven't done anything and one 'star player' who has and their are three tickets and they go up a level every time someone is successful so essentially they've five 'goes' to get the three tickets. If the first ticket is caught, the whole family win a trip to somewhere in Britain like Thorpe Park, and here's the good bit, "with your VIP passes, you won't even have to queue!". If they catch the second ticket then they win a trip to a theme park somewhere in Europe with those magic VIP tickets but if the team manage to catch the third ticket the they could go to a theme park anywhere in the world with, you guessed it, those excellent VIP passes. Mmm!
So what we have here then is a show that's a strange mixture of Speculate!, Friends Like These, The Moment of Truth, and the Wait Till I Get You Home segment from Noel's House Party. It would have been better if they'd been honest about it and called this Junior Friends Like These or something. This show tries to pass itself off as something new, but in fact it's just a very awkward mess. Just like kids, in fact.
Trivia
Produced by David Young, before he left the BBC to form 12 Yard.
Feedback