John Junkin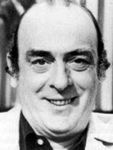 Biography
Long-serving supporting player in TV, radio and film comedy shows. His major credits include A Hard Day's Night, radio series Hello Cheeky and the Marty Feldman vehicle Marty. Towards the end of his life he lived in near poverty due to a £70,000 legal bill for a (failed) action against a TV producer over a format of his, and £120,000 in unpaid income tax.
He died on 7 March 2006 of lung cancer, aged 76.
Trivia
He was the voice of "Mr Shifter", the piano-humping chimpanzee in the PG Tips tea ads, the longest-running series of commercials on television.
He also appeared alongside Pete Postlethwaite in the BBC comedy-drama 'The Sins' in 2000 and alongside Lorcan Cranitch in the 2001 BBC drama 'Macready and Daughter'.
Web links
Feedback