Jon Pertwee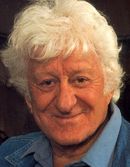 Biography
John Devon Roland Pertwee dropped his third letter while a young actor in the radio series The Navy Lark. He was the third incarnation of Dr Who and the TV face of head-swapping scarecrow Worzel Gummidge. He died from a heart attack in 1996, aged 76.
Trivia
Apparently, he was a talented waterskier.
Cousin of Bill Pertwee, who was most famous for playing the abrasive Chief Warden Hodges in 'Dad's Army'. Apparently, Jon was initially offered the leading role of Captain Mainwaring in said programme, but was unavailable.
Brother of actor/writer Michael Pertwee, and father of Sean Pertwee.
Web links
Feedback