Can Do
Host
Co-hosts
Commentator: Bob Danvers-Walker
Broadcast
ABC in association with Ross Television for ITV, 5 July to 6 September 1958 (10 episodes in 1 series)
Synopsis
Billed, excitingly, as "a new entertainment", and at the time it probably would have been, but now we can look back and say "oh, it's just an early version of You Bet!". Celebs were at the fore - that's for sure - and there were some doors in the background with the words CAN & DO on either side. The celebs had some task to perform and members of the public had to predict whether the celeb "Can do" or "No can do" whatever it was.
Trivia
Aparently, the director's name was John Saturday which, apart from being mildly appropriate, amuses us greatly.
Performers included: Lonnie Donegan, Thomas Spencer of the Harlem Globetrotters, Fred Perry, Katie Boyle and Carry On star Bernard Bresslaw.
Theme music
George Clouston
Images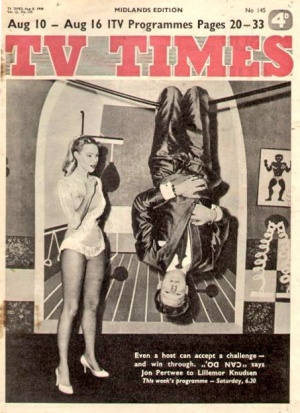 Jon Pertwee and Lillimor Knudsen promoting the show on the cover of "TV Times"
Feedback