Kirsten O'Brien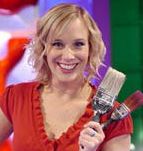 Biography
Born in Middlesbrough in 1972, Kirsten O'Brien spent her childhood moving from country to country. A graduate of the University of Central England, O'Brien briefly worked for Tyne Tees before becoming one third of the peerless mid-90s CBBC presentation team with Richard McCourt and Otis the Aardvark. She remained with the children's department to present the art shows SMart with Mark Speight and Smart Hart with Tony Hart. She's also presented Sunday morning show Smile, Totally Doctor Who, and The Big Toe Radio Show. O'Brien branched out into stand-up comedy in 2007, presenting a poorly-received revue on the Edinburgh fringe.
Trivia
Kirsten held a world record for wearing socks on one foot; she wore 41 while presenting Big Toe in May 2003.
Contact
Wise Buddah, 74 Great Titchfield Street, London W1W 7QP.
Web links
Feedback