LemonAid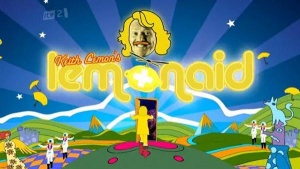 Host
Leigh Francis as "Keith Lemon"
Co-hosts
Celebrity helpers (in order): Cilla Black, Mark Wright, Michelle Keegan, Peter Andre, Emma Bunton and Louis Walsh
Broadcast
Talkback in association with Bang Tidy Productions for ITV1, 7 April to 19 May 2012 (6 episodes in 1 series)
Synopsis
Someone in ITV likes Leigh Francis and his character of Keith Lemon. We can tell this from the tortuous commissioning process that resulted in the six episodes of LemonAid. After Sing If You Can wasn't recommissioned, a general entertainment pilot, Keith Lemon's Bang Tidy Show, was made in summer 2011. ITV commissioners felt it wouldn't work as a full series. The show was re-formatted into Keith Lemon Kisses It Better, where the host became the nation's "agony uncle", giving advice on life's little problems. This format was tweaked, became LemonAid, and advertised as a Jim'll Fix It-style programme.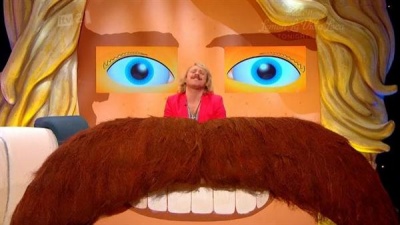 Part of the show was hosted from a giant model of Lemon's own face.
In practice, that meant the Keith Lemon character met real people with real problems, both in the studio and on film, and tried to solve them in his own style. For instance, a woman whose glasses fell off her head would find the best way to keep them on was to wrap her head in sticky tape.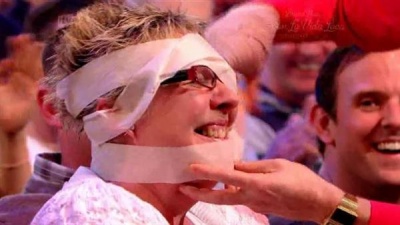 They're not moving!
Each episode featured a musical performance, and a guest celebrity as Keith's little helper. For the first episode, Cilla Black filled this role, and even in her few minutes on screen managed to upstage the host.
Two games were included in the show. The regular game was "Lemon Drops", in which Keith Lemon was put up on a high wire above the audience, and guided by the guest celebrity to release soft fluffy lemons into the crowd - each lemon contained a prize, some worth having, some not.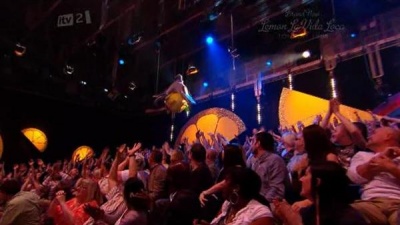 Beware of low-flying lemons.
Each show featured a different competition involving invited members of the public - sometimes amongst themselves to win a prize, sometimes a solo challenge in the style of Epic Win. Usually, these challenges riffed off an aspect of the prize: lunch with contemporary pop duo Rizzle Kicks was the reward for "Mama do the hump", which involved young fans collecting water thrown by their parents who was dressed as a camel. (Parent - camel - camels have humps, right?)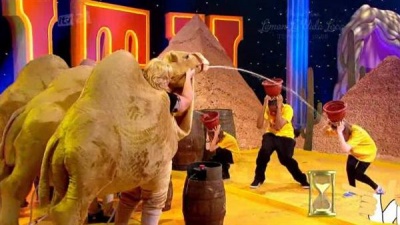 Just don't ask.
LemonAid was part of ITV's Saturday early evening schedule. ITV had taken the decision to keep the established Britain's Got Talent away from The Voice UK, which meant LemonAid went up against the BBC's singing contest. Ratings started out modestly, around 3.5m, and fell away as the series went on. Lemon's stock-in-trade is to be cheeky and irreverent and rude; in this teatime slot, he could only be mildly cheeky and irreverent, and it didn't ring true.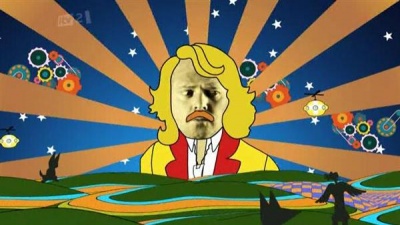 The title sequence was very psychadelic.
Owing to a mix-up involving too much carbon dioxide and the wrong kind of citric acid, UKGameshows didn't get to see LemonAid until an episode was repeated in December 2012, as part of a Keith Lemon promotional night on ITV2. By then, there had been unsavoury revelations about the Jim'll Fix It host, and the skit where Lemon invites a child to hop in his car and didn't take him to school felt even more wrong.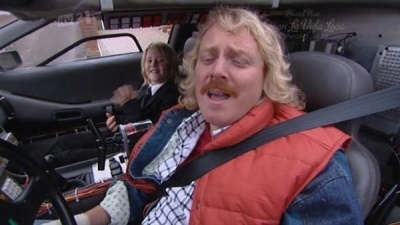 Keith Lemon hosts a fan club meeting.
There was something worth watching in LemonAid. Taken on their own merits, most of the sketches and skits were funny, and the programme was entertaining first time round. We think they were trying to be the new Noel's House Party, where anything could happen, but forgot that even Noel's House Party was never quite as good as that. There was a whiff of Saturday Night Takeaway, and LemonAid benefitted from using the public and not relying on minor celebrities. From one sample edition, our abiding thought was of the new Slap Bang: a show that's funny on first viewing, but the law of diminishing returns quickly sets in.
Trivia
The series was interrupted on 5 May 2012, ITV preferred to air the men's FA Cup final.
Broadcasting regulator OFCOM received over 200 complaints into the competition "A Right Dog's Dinner" on the 28 April episode, which offered a puppy as a prize. Though the producers had taken proper precautions - they'd ensured the competing families were suitable to have a puppy, and kept care of the animal in the studio - they decided not to show this on the programme.
Music
"Music composed by Earshot", as the credits put it.
Web links
Feedback