Michael Barrymore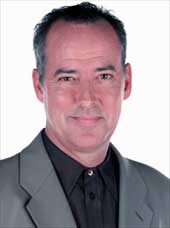 Biography
Comedian and television host born in London, 1952, under the name Michael Ciaran Parker.
His mother was a song and dance entertainer, and his father left home when Barrymore was nine. After numerous children's shows and the BBC quiz Get Set Go, his time came when he presented the madcap quiz Strike it Lucky which slowly evolved from a quiz into a showcase for his repartee with the general public.
He was married to his manager, Cheryl, for 21 years. In 1995, the tabloid newspapers forced him to 'come out'.
In 1997, he appeared in the film Spiceworld, as Mr Step, and, in 2000, took on a comedy drama role, playing the eponymous troubled gameshow host in the ITV series Bob Martin (co-written with Bob Mills).
On 31 March 2001, a body was found at Barrymore's house after he had held a party. The investigation and persistent allegations kept him off television screens for many years. Michael Barrymore spent some time in New Zealand, but returned to the UK for Celebrity Big Brother 2006, where he finished second. He was linked with Challenge's Take It Or Leave It programme, but did not secure the presenter's job.
Trivia
After winning an episode of New Faces, Michael Barrymore was the warm-up man for the Larry Grayson edition of the Generation Game and also classic sitcom Are You Being Served?.
He was the first male celebrity to win the prestigious (if that's the word) "Rear of the Year Award", being named joint winner for 1986 alongside Anneka Rice.
Books / Tapes
Bob Martin - The Complete Series (video)
Michael Barrymore - The Unpredictable... Live (video)
Barrymore - The Very Best Of (video)
Michael Barrymore - Live And Uplifting (video)
Awight Now - Setting the Record Straight - 2006 autobiography, also audiobook
Contact
Hazemead Ltd, 3rd floor, 18 Hanover Street, London W1R 9HG.
Web links
Feedback