Munud i Fynd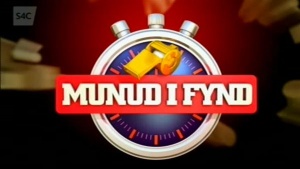 Host
Nigel Owens
Co-hosts
Iwan John and Elin Fflur (team captains, 2012-13)
Tudur Owen and Eleri Sion (team captains, 2014)
Malcolm Allen and Dafydd Jones (regular panellists, 2014)
Broadcast
Avanti for S4C, 2012 to 2014
Synopsis
A comedy panel game, loosely based on A Question of Sport.
Nigel Owens, a former rugby referee, gives teams of three silly things to do. The show begins and ends with quickfire buzzer round "One Minute to Go", the literal translation of Munud i Fynd. Other rounds include the music-or-sport choice "Ruck or Roll", diving into the props box for "One Crazy Moment", and "Home or Away".
Nigel Owens blows the whistle on another show.
The show uses sport motifs (its insignia is a stopwatch and whistle), but doesn't rely on sport. The questions are general knowledge, the teams can avoid sport for most rounds, and one of them will be embarrassed in "A Question For Fun". Other people will be embarrassed in video clips, which pop up in some rounds.
Our reviewer doesn't speak much Welsh, and watched Munud i Fynd through English subtitles. We didn't need any translation for the physical comedy, and the spark and crackle of a vibrant comedy show.
Web links
S4C site (in English)
See also
Weaver's Week review (2014)
Feedback