Murder in Successville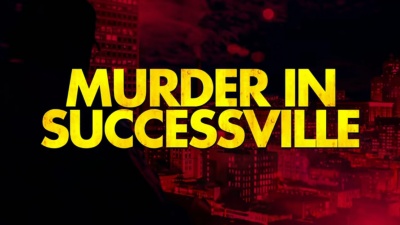 Host
Tom Davis as "DI Desmond Sleet"
Co-hosts
Liam Hourican as "Gordon Ramsay"
And a rotating cast of supporting actors including Luke Kempner, Cariad Lloyd, Colin Hoult, Marie Lawrence etc.
Broadcast
Tiger Aspect and Shiny Button Productions for BBC Three, 6 May 2015 to 24 May 2017 (18 episodes in 3 series, including 2 clip shows)
Synopsis
The premise is laid out in an on-screen "disclaimer" at the start of each episode:
"The following programme was filmed over 24 hours. Our celebrity guest was thrown into a live immersive murder mystery and was unaware of the events about to unfold."
What unfolds is a murder investigation in a Stella Street-style parallel universe populated by alternate versions of real-life celebrities. In Successville, Richard Hammond is a police pathologist, Alan and Jimmy Carr are gangsters, Miley Cyrus runs the old folk's home and Dynamo is... well, Dynamo is completely off in cloudcuckooland.The impersonations are not hyperrealistic, to put it mildly, though Liam Hourican's Gordon Ramsay, Successville's police chief, is spookily good.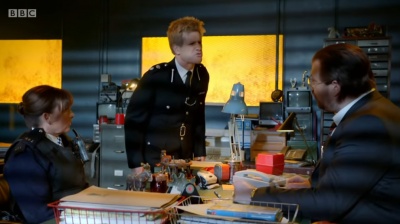 Sleet receives a briefing from Gordon Ramsay while the real Lorraine Kelly looks on
D.I. Sleet (Tom Davis) is one of the few characters not based on a real-life celeb; he's a parody of the generic "hardboiled" cop, though without any actual talent for solving crime. He's the one who will take the rookie under his wing, guide them in their investigations, mildly embarrass them, and flake out at crucial moments.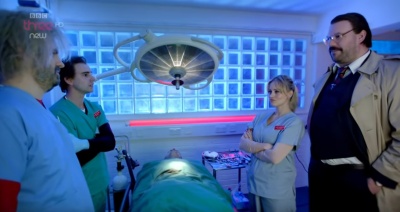 DI Sleet and his latest rookie Kimberly Wyatt question surgeon Bob Geldof (Dan Skinner) and anaesthetist Andy Murray (Luke Kempner)
Sleet and the rookie will interrogate three suspects and vitally, the central mystery plays fair. There is usually one big piece of misdirection, but also enough clues to establish the innocence of two of the suspects, and an incriminating piece of evidence hidden in plain sight at the location of one of the interrogations; the celebrity (and the viewer) just needs to be alert enough to notice it.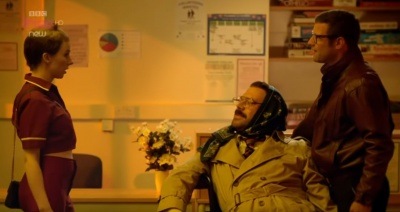 Sleet and Dermot O'Leary go undercover at the retirement home run by Miley Cyrus (Cariad Lloyd)
Along the way, the guest will be thrown into various situations which may or may not have anything to do with the central game. Usually, one of the scenes will be done "undercover" with the guest having to adopt a different persona, and there will be times when Sleet will contrive to be absent or incapacitated, leaving the rookie to deal with the eccentric suspects on their own.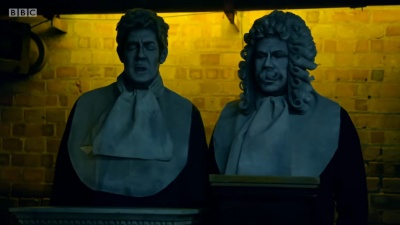 Richard Osman and Sleet infiltrate an auction by posing as marble busts. Look, it made sense at the time, OK?
With elements of sitcom, improv, murder mystery and prank show, Murder in Successville is such a mash-up of genres that descriptions tend to give up before they even get to "game show", but it's the puzzle that gives the show its structure and its denouement (as they say in crime fiction circles) as the guest identifies the guilty party, usually by shooting them. And usually, getting it wrong and having the giveaway clues pointed out to them after the fact by a furious Gordon Ramsay.
A fun show that built an appreciative following and ended before it got stale.
Trivia
The celeb "rookies" were, in order: Jamie Laing, Greg James, Deborah Meaden, Dermot O'Leary, Kimberley Wyatt, Louis Smith, Vicky Pattison, Mark Wright, Chris Kamara, George Shelley, Emma Bunton, Richard Osman, Martin Kemp, Lorraine Kelly, Reggie Yates and Professor Green. Lorraine Kelly was the only one to have also been portrayed on the show: her Successville version, played by Marie Lawrence, was a suspect in Vicky Pattison's investigation.
The format was remade in the USA as Murderville with Will Arnett as the central cop - but without the celebrity impressions, and mostly casting comedians with improv experience as the rookies.
Web links
Feedback