Nicky Campbell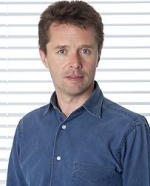 Biography
Edinburgh-born TV and radio host with a curious double-life in current affairs and light entertainment. Campbell initially rose to fame as a DJ, enjoying a ten-year stint with Radio 1 starting in 1987, during which time he also hosted Wheel of Fortune. In 1997 he moved to Radio Five Live to present a more current affairs-based show, and he's still there. He's also presented the BBC One consumer show Watchdog, the ethics-focused Sunday morning debate show The Big Questions, and ITV's relative-tracing human interest series Long Lost Family.
Trivia
He served as Rector of the University of St Andrews from 1991 to 1993. His immediate predecessor in the post was Nicholas Parsons.
He wrote an album of big band swing music, Moonlight's Back in Style for the actor and fellow Just the Two of Us contestant Mark Moraghan. Campbell also plays ukulele and performs backing vocals on the album. He's also written and recorded an album, We're Just Passing Through, with Kate Robbins.
He was one of the subjects of the BBC's family history series "Who Do You Think You Are?". His edition was an unusual one - he was adopted, but had already traced his birth family, so for his programme (a special edition made to tie in with a BBC adoption season) he traced his adoptive family instead.
Web links
Feedback