Night Fever
Host
"Suggs" from the pop group Madness
(a.k.a. Graham McPherson)
Co-hosts
Will Mellor and Sarah Cawood (1998-2000)
Kieron Elliott and Danielle Nicholls (2000-2)
Broadcast
Grundy for Channel 5, 5 April 1997 to 10 March 2001 (109 episodes in 4 series)
Thames for Channel 5, 22 September 2001 to 30 March 2002 (26 episodes in 1 series)
Synopsis
Fact: 'Karaoke' is Japanese for "empty orchestra". Given that this was on Channel 5, Night Fever could well have been Japanese for "empty audience". (Please laugh now.)
But it really isn't funny really because this pulled in big audiences for the channel. People singing badly are funny. That was basically the idea behind Channel 5's big hit Night Fever. Celebs of the "I'm on a soap opera, you know" order of merit were dragged kicking and screaming by Suggs and his assistants through a number of karaoke classics. For an hour. With a monkey.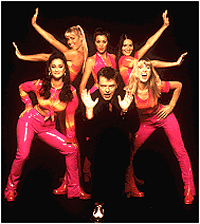 Suggs surrounded by dancers
Rounds included having the girl and boy teams sing together with various success on a song, medley rounds, individual rounds and there even used to be a short quiz at the end. Even the up-for-it audience were made to get involved at various points during the evening whether they wanted to... or not. Sarah Cawood and Will Mellor geed-up each part of the sexually-segregated audience.
Helping the proceedings along was Pop Monkey (kind of like L!ve TVs News Bunny except completely different) who acted like a monkey and held the scores on cards in the shape of bananas and supposedly decided on the songs that would be sung on the show. That said, later on in the show's run there was something called The People's Choice where people wrote in with songs they wanted to sing and the most popular choices got sung into and out of the breaks.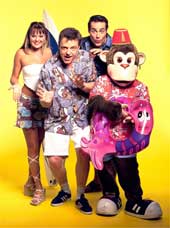 The Pop Monkey with Suggs and new co-hosts Kieron Elliott and Danielle Nicholls
Occasionally there were random It's a Knockout-style rounds with the members of the audience for no discernable reason whatsoever. The scores used to be kept by a bloke pretending to be Beethoven but that changed. There were surreal Fun House style graphics flashing up on screen every couple of minutes.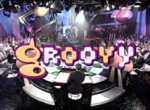 Beware - low-flying graphic
No matter what we've said above, it was all pretty pointless because they kept messing around with the format every five minutes. All in all, less of a game show and more of a televised karaoke party and while it wasn't something we'd go out of the way to watch, we'd be quite happy to watch if we came across it. We're so cool that we listen to Radiohead at parties, anyway...
Inventor
Based on a French show.
Theme music
Rick Turk
Web links
Pictures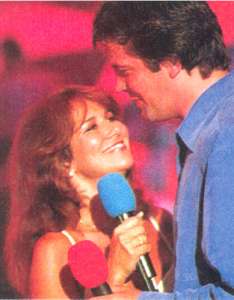 Linda Lusardi sings with Sam Kane, her husband.
Videos

An episode from 1997.
Feedback