Oci Oci Oci!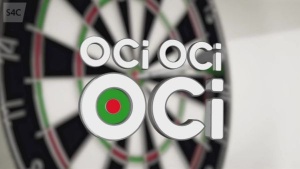 Host
Eleri Sion and Ifan Evans
Broadcast
Tinopolis for S4C, 14 July 2018 to 10 August 2019 (12 episodes in 2 series)
Synopsis
A darts quiz, played by teams of four from a pub or club. Two of them throw darts, the others know something.
Two of the team are quizzers, they'll answer questions on the buzzers. When a team's given three correct answers, their darts players get control of the board, and can run up the score. In later rounds, the darts player picks a target - with the option to pass it to the other team.
For the final, there's a time limit on the questions, and each point scored on the darts board translates to £1. A further £180 can be won if the darts player hits a random number on the board. The prize is doubled if one of the darts players hits a specified double on the dart board.
The show might benefit from a little more darts, as the passages of quiz questions can drag on. The atmosphere is relaxed and convivial - the darts players drink their beer, S4C stars Eleri and Ifan are at home in the crowd. It's great for the post-pub slot on warm summer Saturday evenings.
Throw again?
A second series was made and shown in 2019. The format was streamlined, with many changes.
The opening round now consists of three "easy" questions to the knowers, each correct answer allows the throwers to throw a dart. Only one correct answer? You're only chucking the one arrow.
By passing through this round twice, we get to meet all six of the throwers, and make sure all of the knowers have some time in the spotlight.
Round two is the old round one, answer three questions on the buzzer to earn the right to throw three darts.
The target round remains next, but this time the knowers answer questions for the right to set a target. Their team-mate throwers name the number, the opposition can try to reach the target, or force the setters to reach it themselves. It's complex when written down, Eleri and Ifan make it much more easy on the screen. First team to win three of these targets wins the round.
The final cashbuilder's the same as before - 90 seconds of questions, three right answers stop the clock and earn the right to throw darts. Total of these darts throws is the cash pot.
The final gamble is streamlined: the winning team nominate their preferred number, and throw three darts at it. Only the one best dart counts, to win single, double, or treble the cash pot - or nothing at all, if all three darts miss the nominated segment.
Oci Oci Oci! remains sparsely decorated, the show logo is on vinyl posters. The podia are rugged, using simple and reliable technology - big buzzers and seven-segment LED displays, something we hadn't seen for some years.
Web links
See also
Feedback