Paul Coia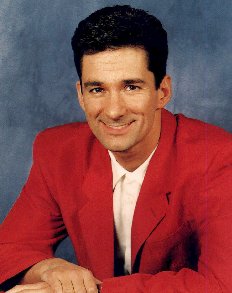 Biography
Coia studied science at Glasgow, his town of birth. After doing some disco DJing, he spent some time at hospital radio before getting a role at Radio Clyde. After announcing roles failed to bring about some on-screen appearances, he grapsed the nettle and left to do chat and magazine shows, including the famous BBC1 afternoon show Pebble Mill.
Thereafter followed a string of BBC, satellite and cable quiz shows. He is married to the former Miss Great Britain Debbie Greenwood (who herself hosted First Class and co-hosted Spellbound with Paul). He also used to be a continuity announcer on ABC1 and turns up on QVC from time to time.
Trivia
His voice launched Channel 4 in 1982 (although Richard Whiteley was the first face to be seen). Little-known fact: the announcement was taped to ensure there were no fluffs. Little did anyone know that Coia would later become another weekday teatime quiz host (of Catchword), although his show would not ultimately be as successful as Countdown.
Contact
Take 3 Management, 110 Gloucester Avenue, Primrose Hill, London NW1 8HX
Web links
Feedback