Prickly Heat
Synopsis
Don't just sit there, go Balearic!
Sunny, beach locations (with lots of sex) have played host to many of Sky's top rated programmes: Ibiza Uncovered, erm, Greece Uncovered? Anyway the mixture of sun, sea, sand, sunburn and lousy, lousy music has attracted loads and loads of young people who are all inevitably maaad for it in Prickly Heat. Pity the poor locals.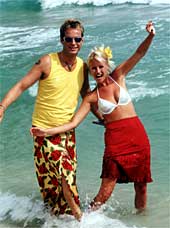 Livin' the good life.
Sky thought it would be a good idea to mix It's a Knockout with Hedonism for the ultimate beach battle (it says here). Teams battled on a beach in dodgy, saucy games (Put grapes in pants, run to chair, squash grapes etc.) in order to win pesetas. In the first series, teams from England, Northern Ireland, Scotland and Wales did battle. The second series swapped the Home Nations for teams from as far away as Australia and the United States.
But that was only half of it! It wouldn't be an Ibiza-style programme without a documented account of the nightlife, specifically which of the contestants are shagging whom and after which club. Sigh. And then some of the teams had to do zany tasks, such as forfeits and organising piss-poor entertainment at some drunken English-effect pub.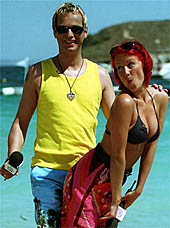 Denise Van Outen, the originator of twerking.
To be fair, the production values are a lot better than you'd think. But on the other hand, is this sort of show really what the satellite revolution is all about? Or an out-and-out way of grabbing whatever poor ratings it can scrape together? You decide.
Trivia
Contestants from the first series included future TV presenters Kieron Elliott and Alex Jones.
Web links
Videos

A 13 minute clip of a 1998 episode.
Feedback